The building of the Strat neck in chronological order. To enlarge the photo to full size, click on it.

The Kanuka plank 20mm thick except at the headstock end where it is a bit thinner. Doesn't really matter as the top 5 mm or so will come off anyway.

Marking the neck outline on the plank with the template.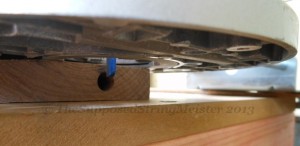 Drilled the hole for the truss rod adjustment first and ready to rout the truss rod channel.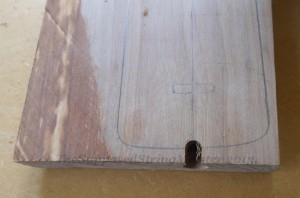 First cut, just checking if it is indeed in the middle.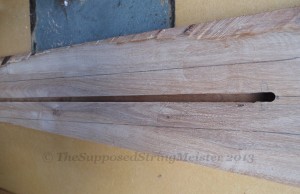 Channel routed, a couple of small 'slip-ups'. Cutting the end channels by hand with a small chisel.

Checking out how the rod fits.
This will do for me, just need to glue in a small strip of timber in the bottom of the channel to provide a bend to the truss rod.

The small strip is about 3.5 mm high in the middle and cut out of a spare piece of Kanuka.

Here the leftover piece of Kanuka which will be glued in the channel on top of the truss rod.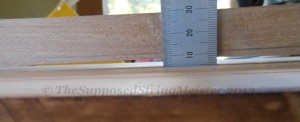 Showing the gap…
And gluing it in the channel. Truss rod is definitely in place and nicely pre-bend.

Sideways shot.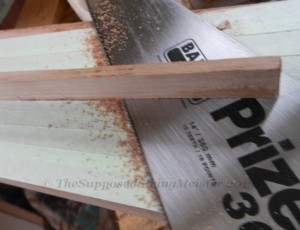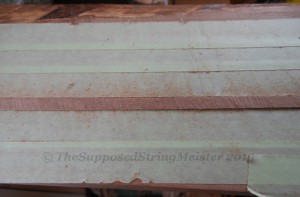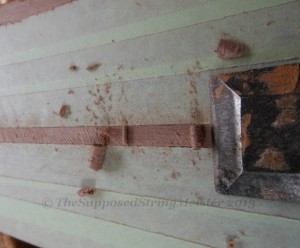 Cutting the excess away with a handsaw. Protected the neck surface with some masking tape first.

Excess removed.
Chisel time.
Chiseling done.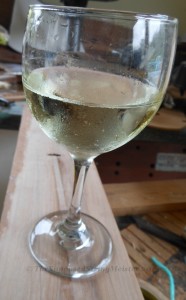 And final sanding completed. I'll drink to that 🙂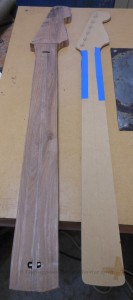 Jigsawed the neck outline and now the neck can be routed.
Routing done.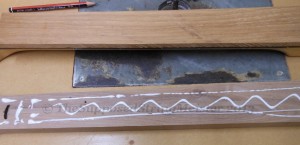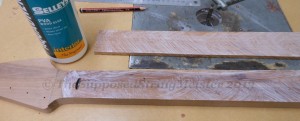 Time to glue the fretboard on.
Glue nicely and evenly spread out.
Clamping it all together, using a good, fat plank so the pressure is evenly distributed over the fretboard.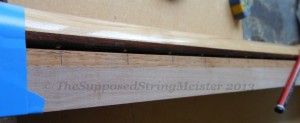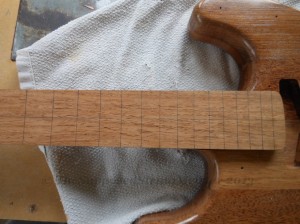 Professionally marking out the fret positions 🙂
This happens to be a Squire neck…


As you can see the fretboard has  been routed as well, no photo of that.
All fret positions marked up.

Also at the lower end of the neck.
Next up Making the Inlays