Tue Jun 11, 2013 10:40 pm
A while ago I bought another SuperAxe. This time it was a naked SA30. The only hardware attached was the tremolo bar, the tuner bushings and the frets. Absolutely nothing else on it, hence why I call it naked. The idea is to bring her back to life with an appropriate selection of hardware.
The body is good but you can see it had a hard life…
The current status is all frets stripped and fretboard sanded to get a slight warp out. Fretboard dimples filled with the produced rosewood dust. Most hardware has arrived such as pickups, fret wire, tuners, bridge, pots and caps. I will need to make a timber bridge base on which to mount the metal bridge. Also need to make pickup mounting rings and pick guard. I still need to source a tremolo spring and stop which ain't going to be easy.
Here some photos of the naked lady.
Frets were not bad but had to go so the fretboard could be sanded.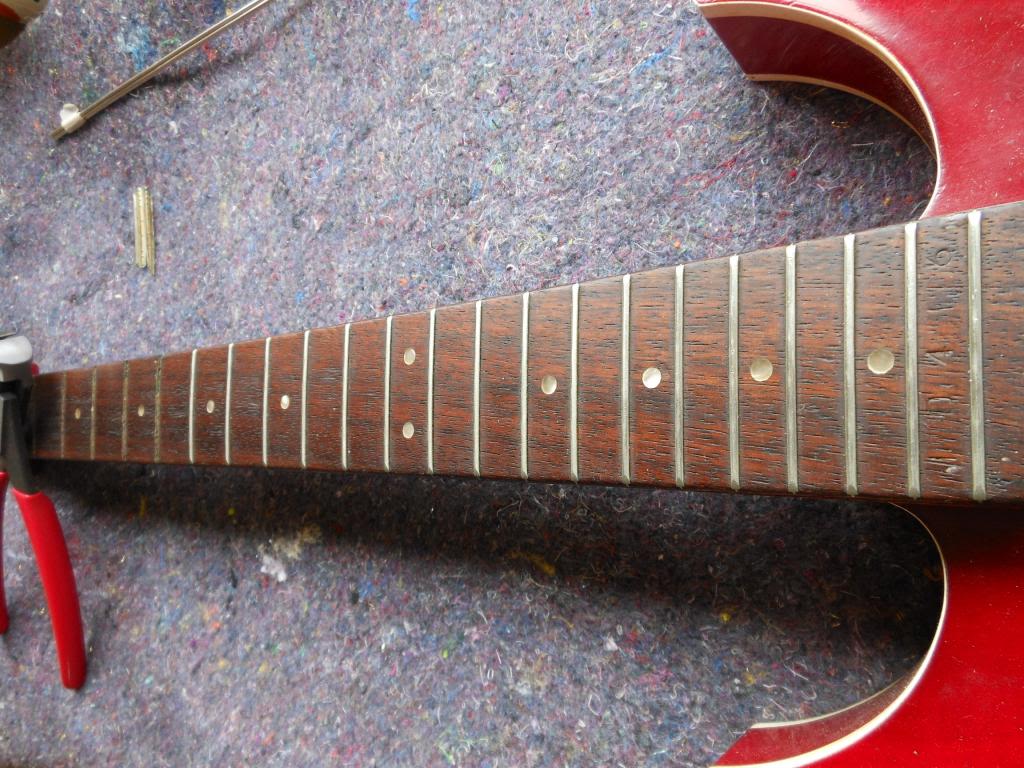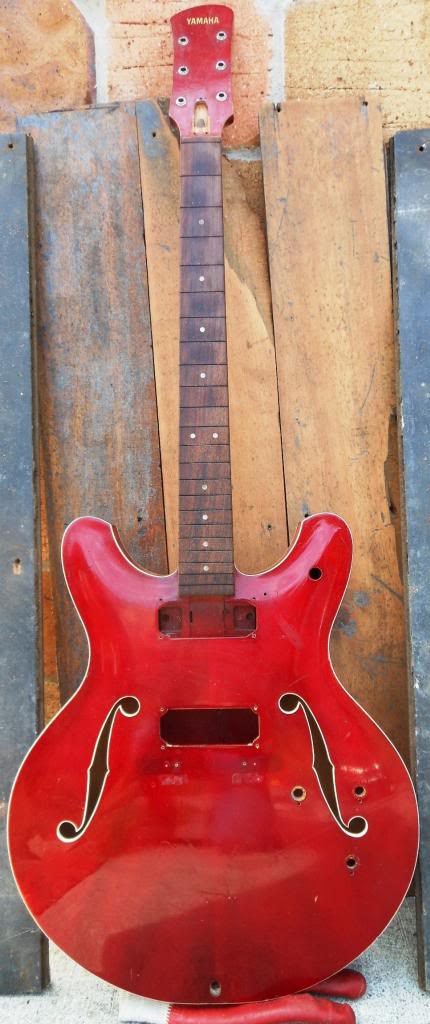 My new Stewmac tool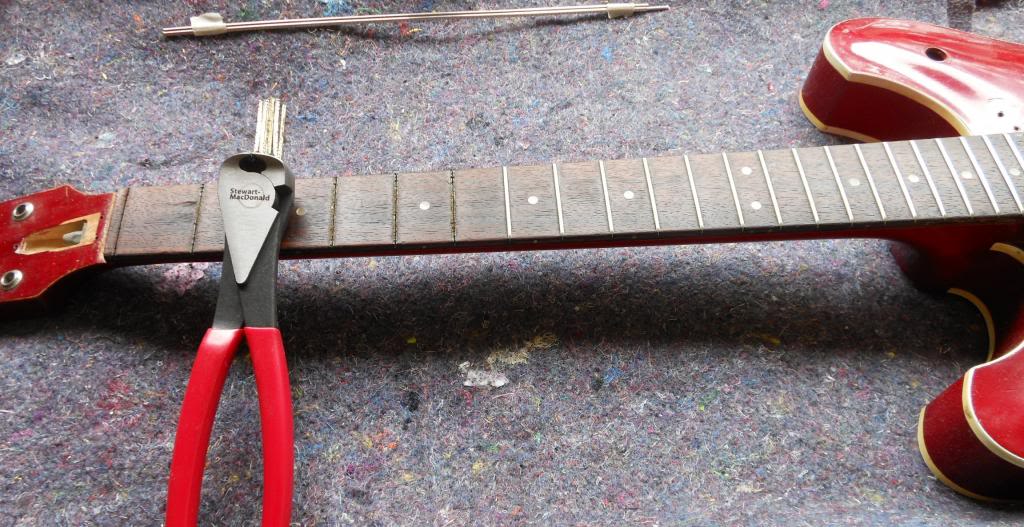 Frets gone – sanding dust in bag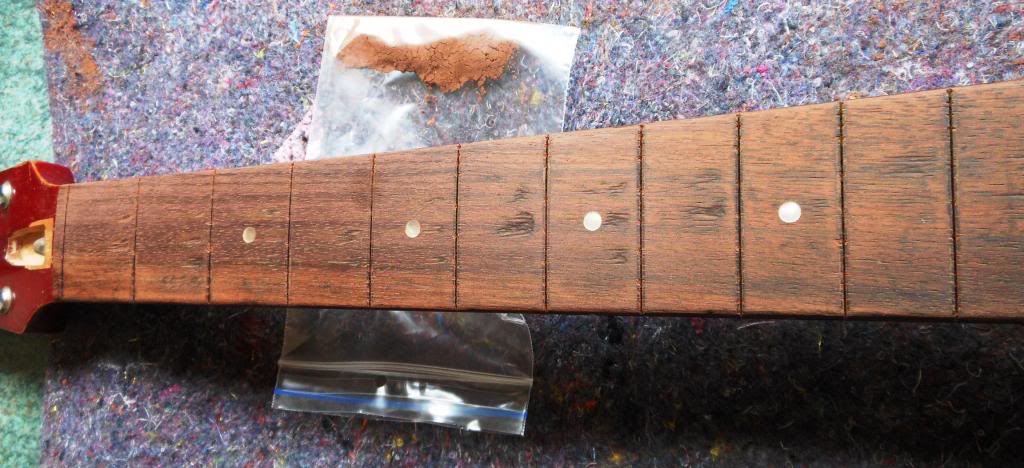 Dimples gone – looks poorly done in this photo but once the dimples have been given some 'artificial grain' and the board has been oiled it won't be noticable.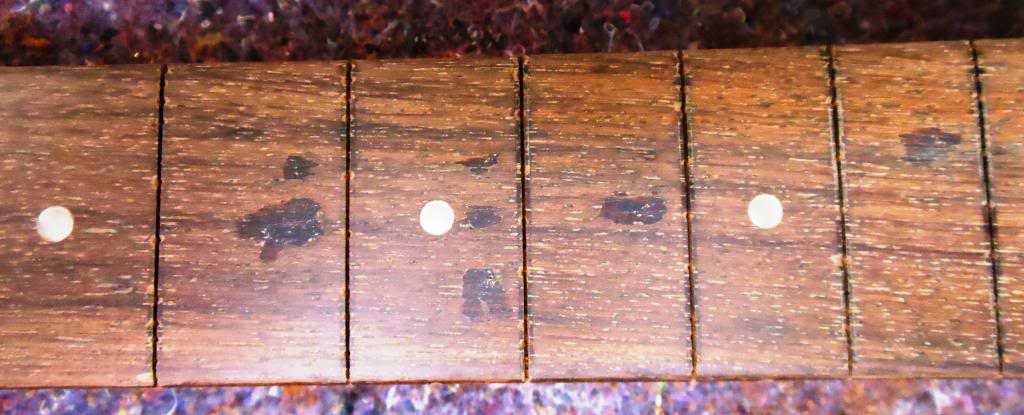 Next up is the fretting and making the bridge base (hmmm you can buy these too).
Thu Jun 13, 2013 10:30 pm
I did not feel like making the base of the bridge so I bought it. Arrived this morning so now I think I have all the hardware required….
These Grover tuners are good and an exact match for the screw holes so no extra drilling.
Tuners and pickup switch via Stewmac. Bridge & base, pots, spring and fretwire from RealTone NZ.
Pickups are DiMarzio mini humbuckers, both bought on TradeMe, one new, one second hand but looking like new.
The tremolo is the original unit which came with the guitar.
Pickup mounting rings I will make from some hardwood.
Let the fun begin!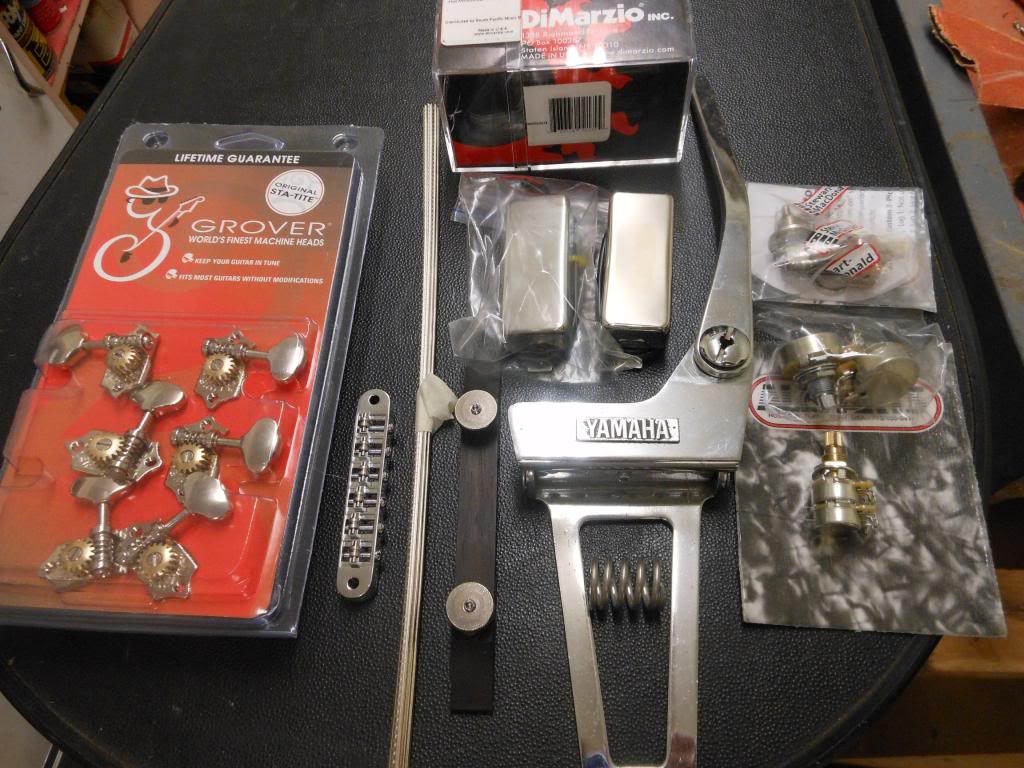 Mon Jun 17, 2013 10:35 pm
Last Saturday night a couple of hours went into the refret and Sunday I was busily filing the fret ends so that they feel smooth while sliding your hand over the neck edges. Then the new tuners went in. They are Grover 18:1 Sta-Tite and are a good match for vintage type tuners.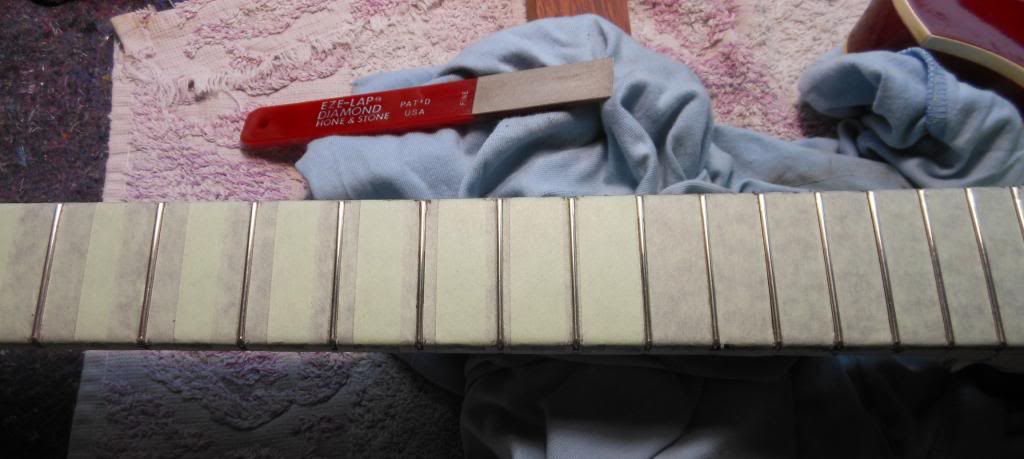 Just after the Lizard Spit was put on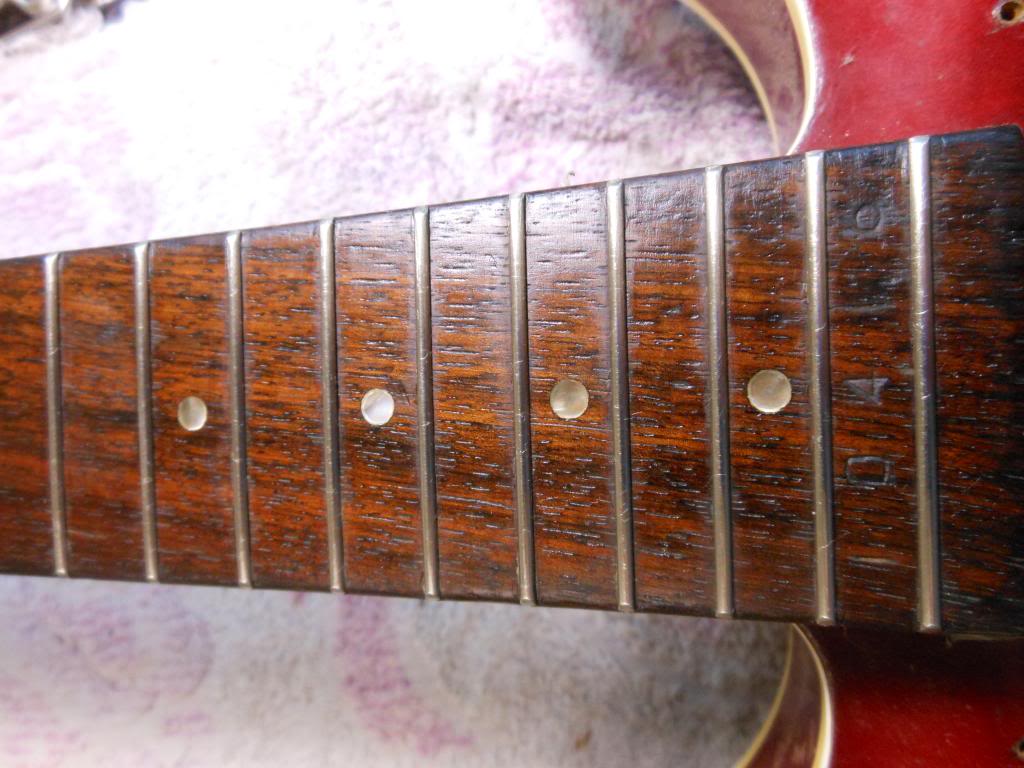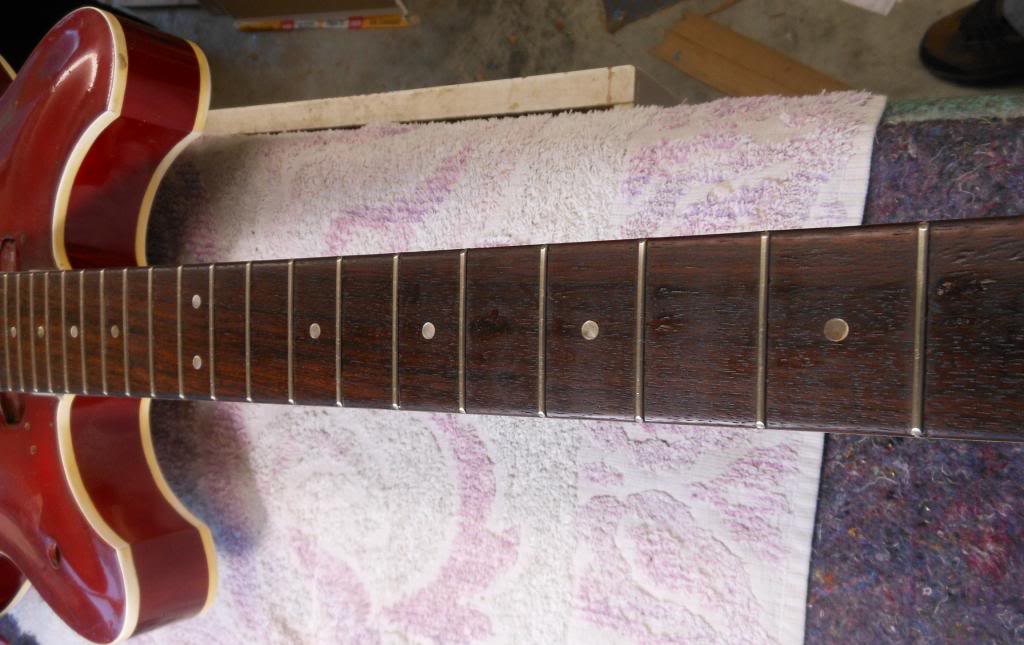 I always like to test drive the new frets before I level them and so the original tailpiece was connected and a few old strings put on. The base and bridge are just floating and this would also give me a chance to locate the best position for the (non original) bridge with respect to intonation.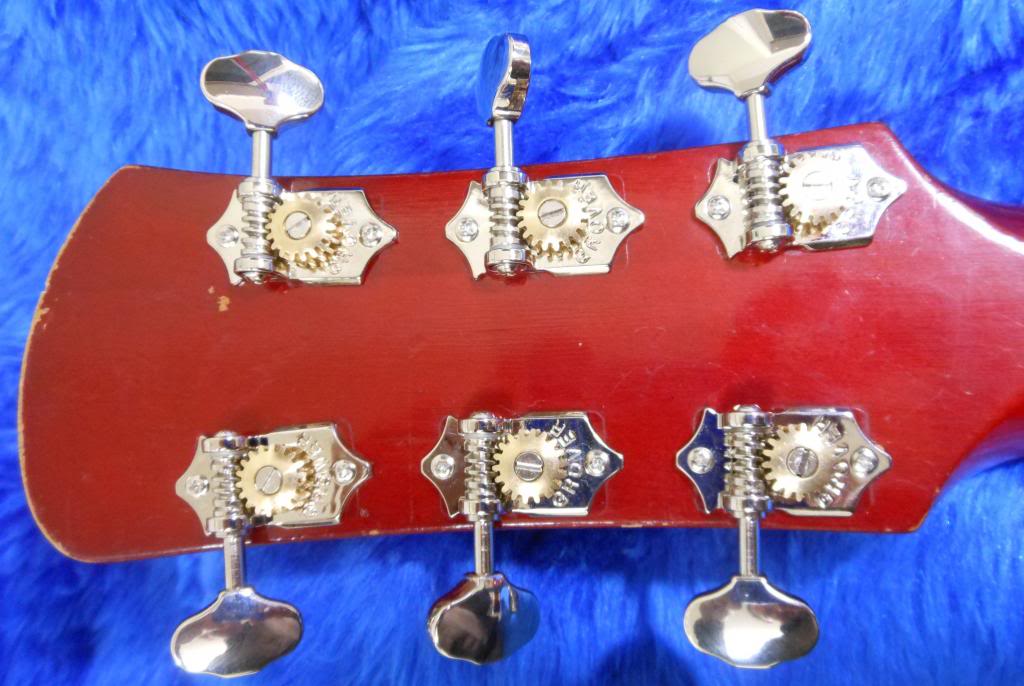 Final bridge position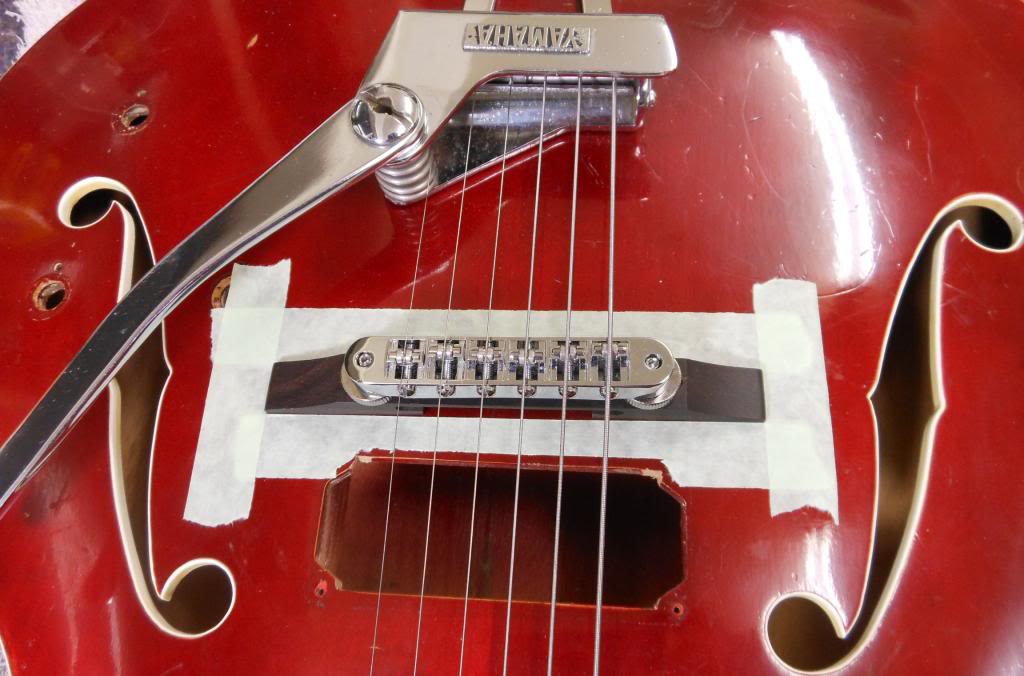 Just as well I did all this as I found I had a problem with the Zero fret being too low on the high E string, something that I had not picked up visually. The string was actually resting on the next fret so some serious thinking was required. The fret needed to come up by about 0.5mm to make it work. The solution was to gently lift the fret out of the board on the high E side only and then superglue two small strips of metal under it hard against the tang. Not ideal, and I would have like to avoid it, but hey, it is the zero fret, no one ever plays there…Can you see it?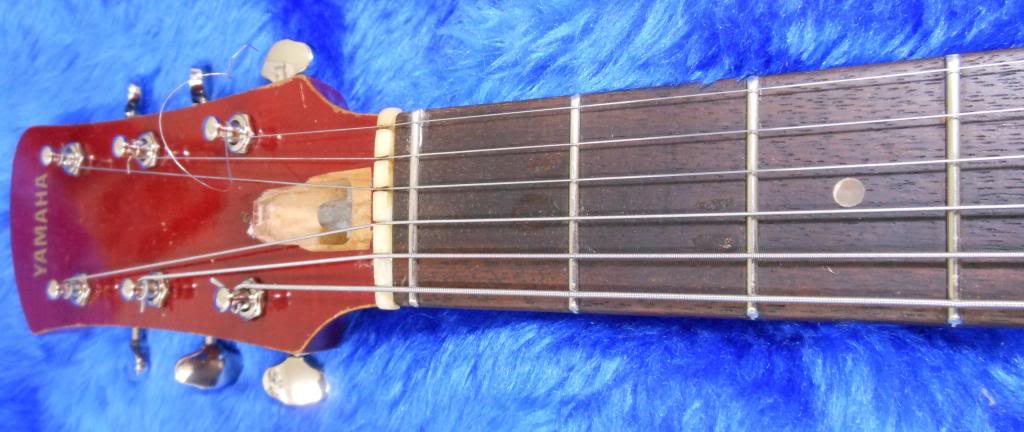 After that minor adjustment the neck played fine without buzzing and a reasonable action. So not too much more work on the frets will be needed. The bridge position was determined and the tape around it will allow me to position the bridge and drill the holes once the strings are off again.With no pickups and no plastic baffles in the F holes, I found it acoustically quite loud. A quick mockup with a DiMarzio humbucker from Hell was very tempting….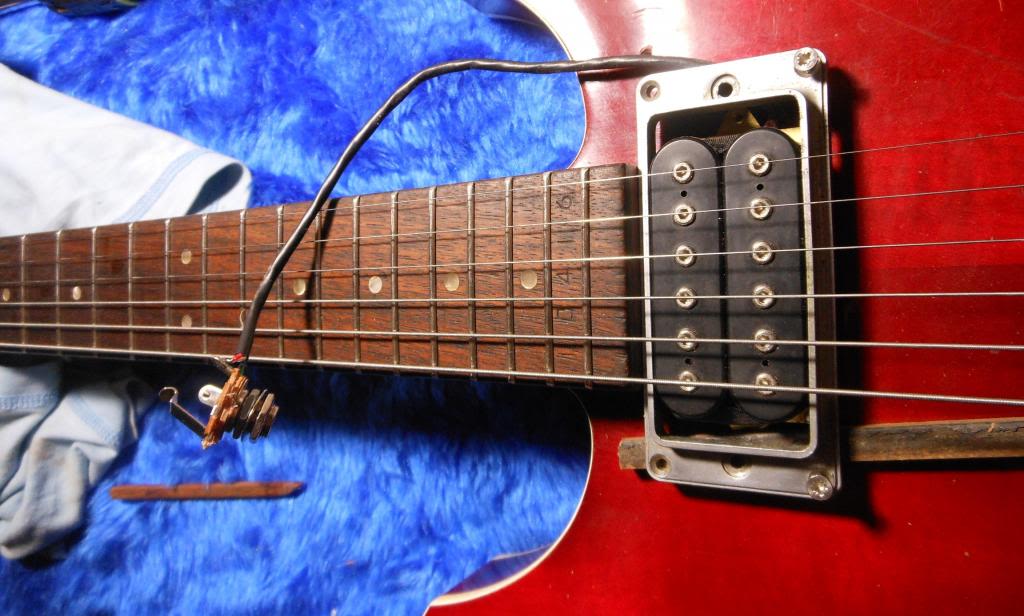 Tried it on the Cub 12R and sounded not too bad….
Next up is cutting a bone nut and making the pickup rings. I also want to drop a block of wood through the bridge pickup opening and glue it in between top and bottom of the body (just under the bridge).
Sun Jun 23, 2013 7:06 pm
This weekend I managed to make a few pickup rings from Merbau (Indonesian Kwila). Nice timber and very dense. I find the DiMarzio mini humbuckers do not have much of a mounting bracket…. There is very little space between pickup sides and screws. Makes it harder to make a ring out of timber… Also, the thickness of the timber pickup ring does not allow for much height adjustment for the pickup itself. Anyway, have a look at what I managed to create. I am currently thinking of not painting them and just give them a light varnish…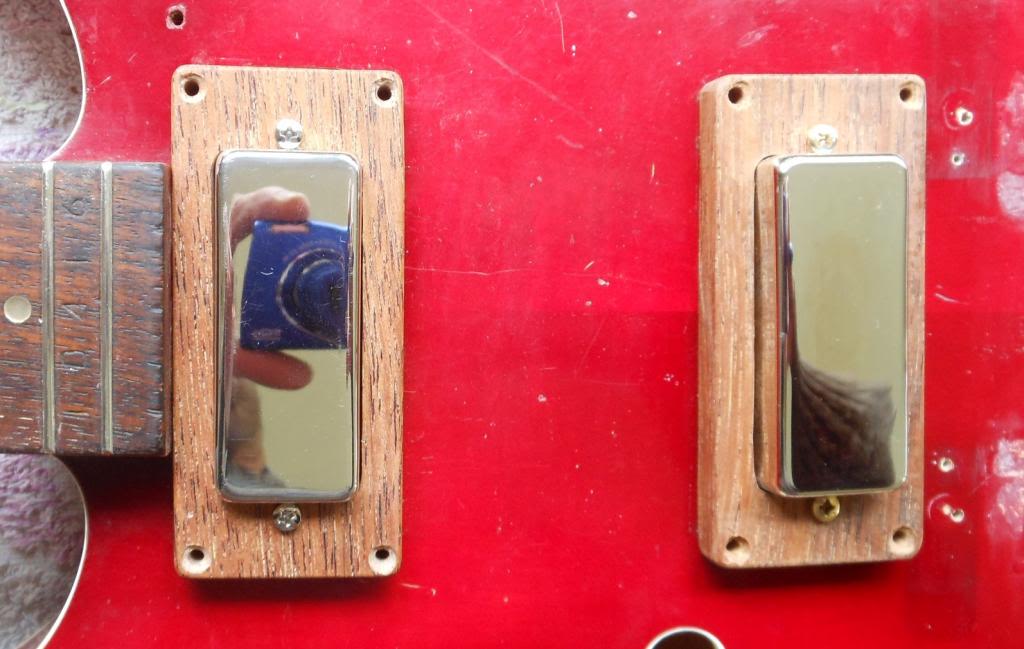 Could not resist wiring it up quickly… in parallel, no pots, no switches. Whoa…. just tried it my little Fender amp… Great sound, love the nice crisp cleans!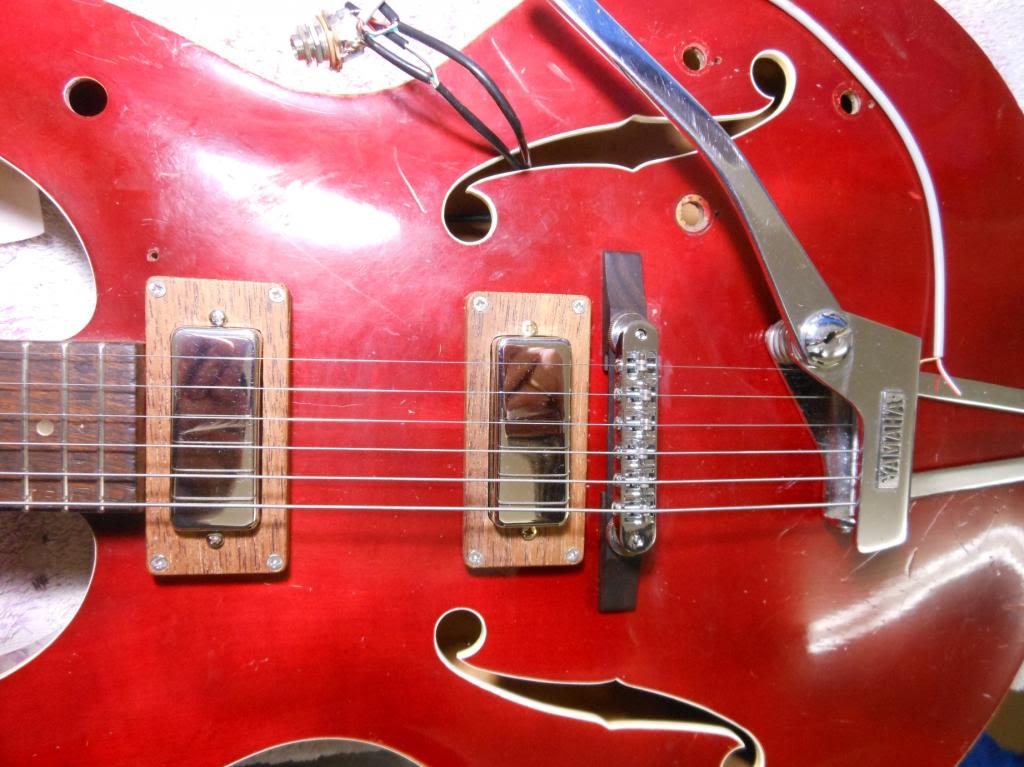 Here some close up of the pickups and the rings.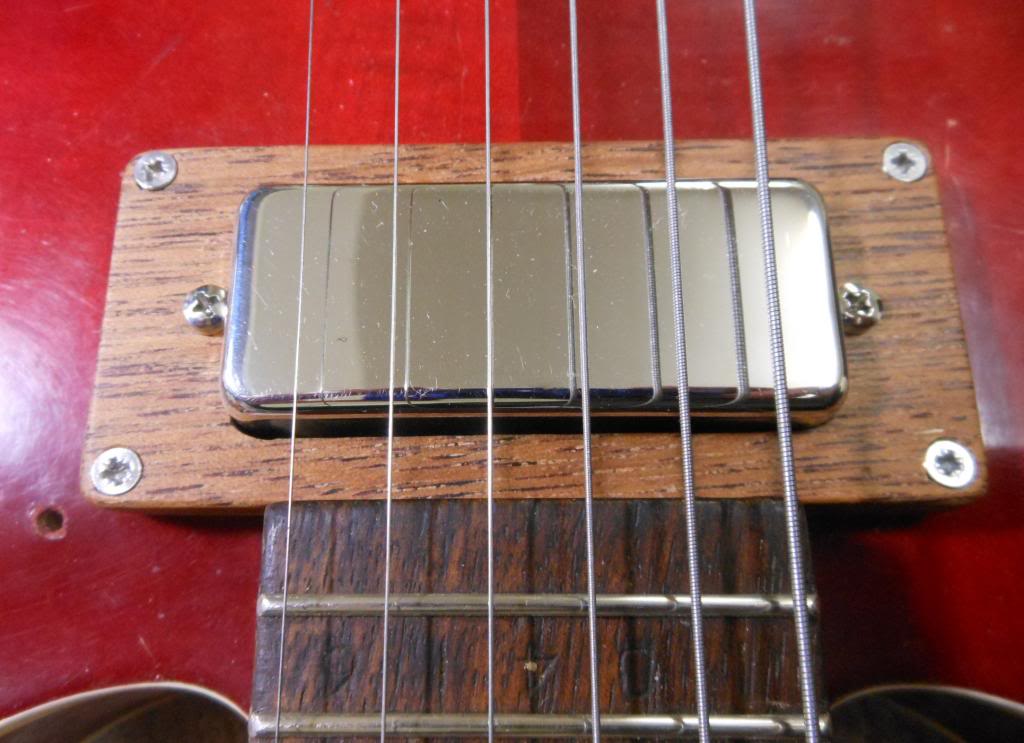 and the bridge pickup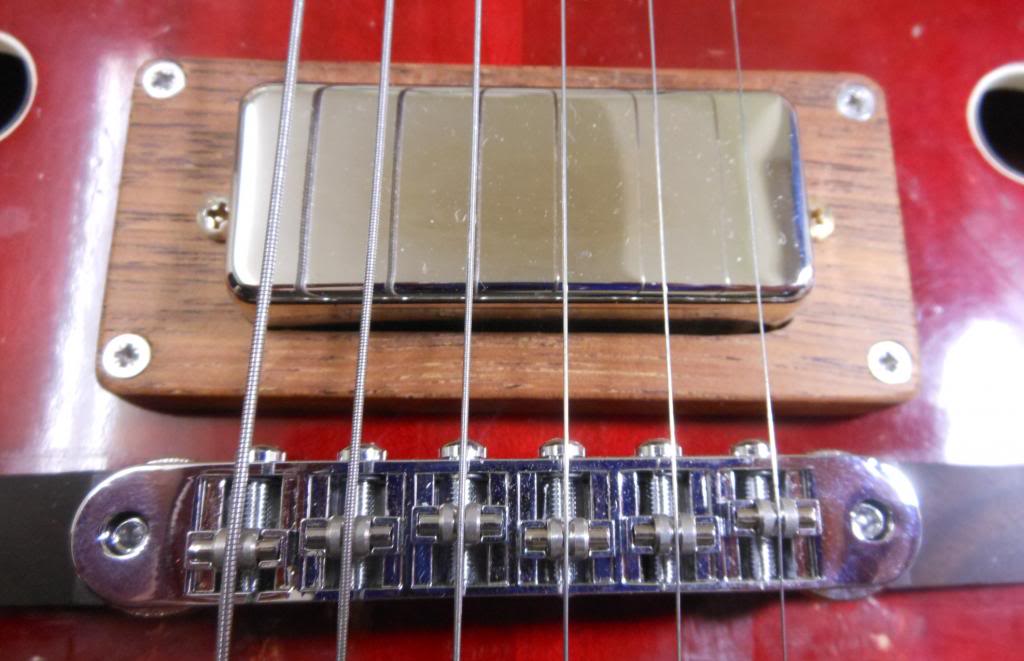 Next is the anti feedback block…Mon Jul 01, 2013 11:21 pm
Some slow progress over the last week or so. The bridge mounting ring was too low so made another one which is a bit higher. Also rebated the back a bit so the pickups can now be adjusted such that they are much closer to the strings.Also stained them with charcoal, then oiled them, then finished them with a bit of furniture wax. They are looking good IMO.Yesterday I cut the 'anti feedback' block which will be glued under the bridge. This should limit the feedback hollow bodies are renowned for. Glued it into place last night and tonight I started wiring her up. Just getting the pickup selector in place took me about half an hour….. Oh, and I polished the top. Came up nicely. Plenty of little dings and scratches but that only shows she once had a busy life.Here the pics;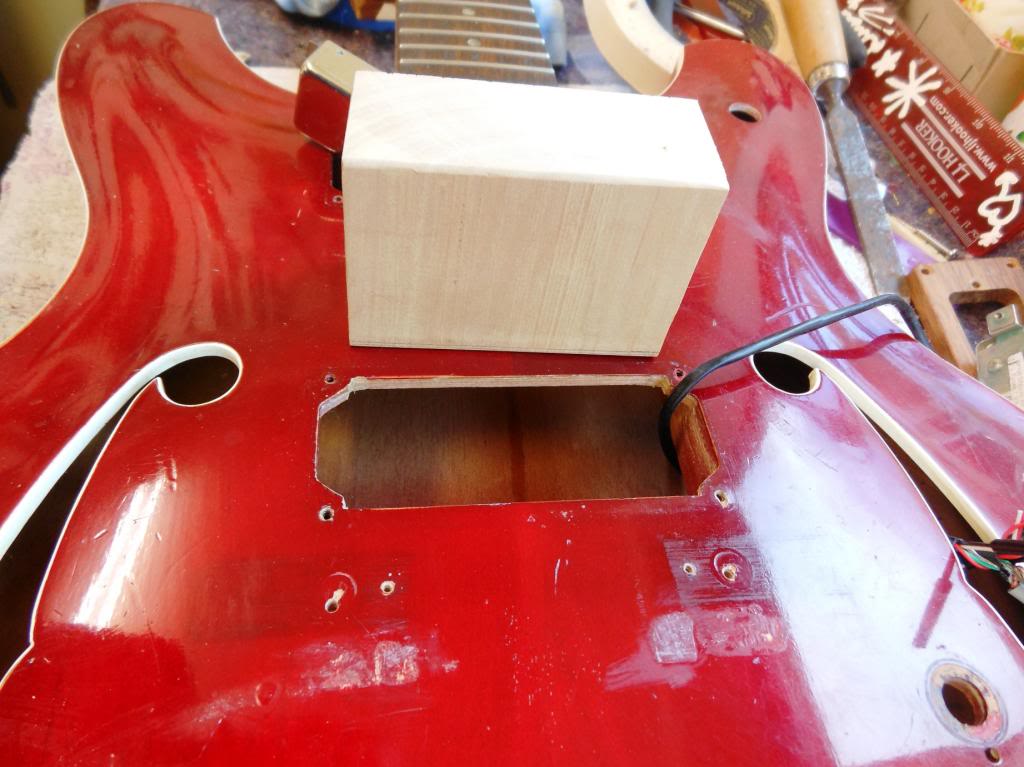 Nicely fits in the pickup cavity…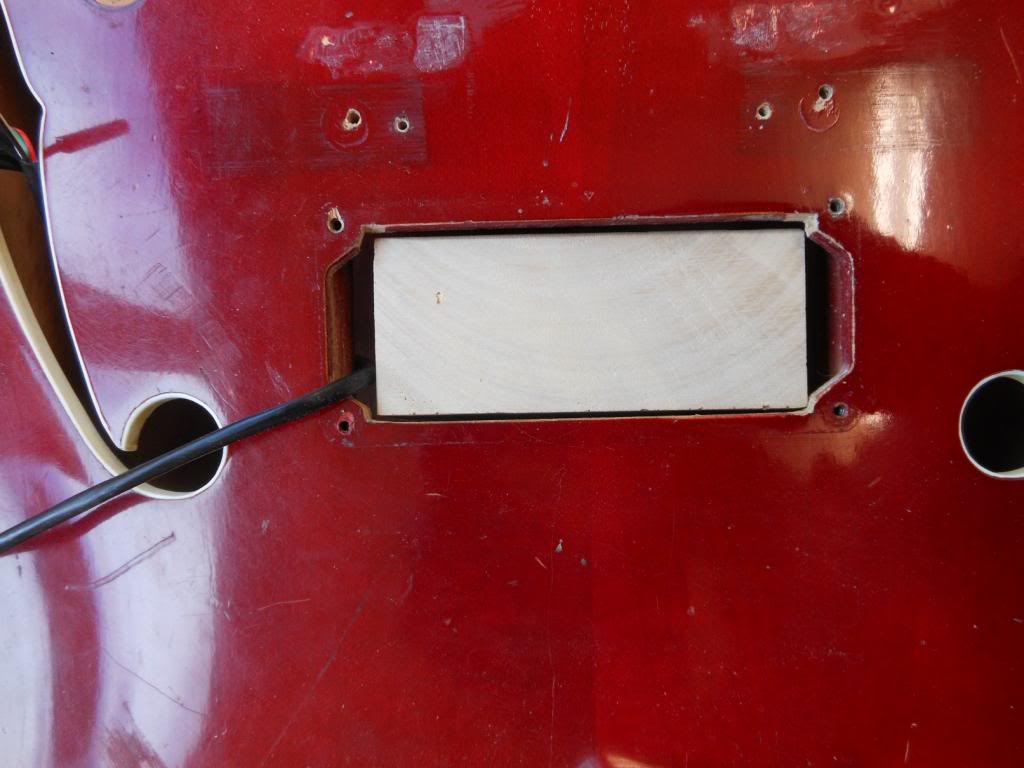 All glued in and signed by 'TheSupposedStringMeister'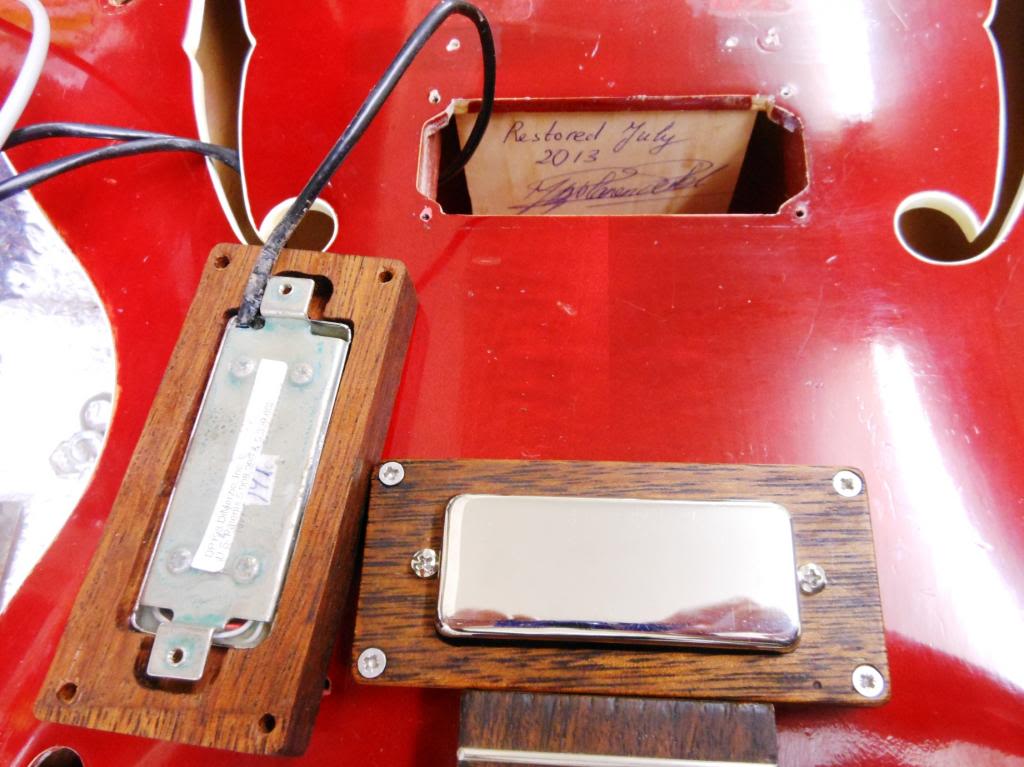 The pickup selector switch is in place. Note the stained mounting rings nicely matching the fretboard!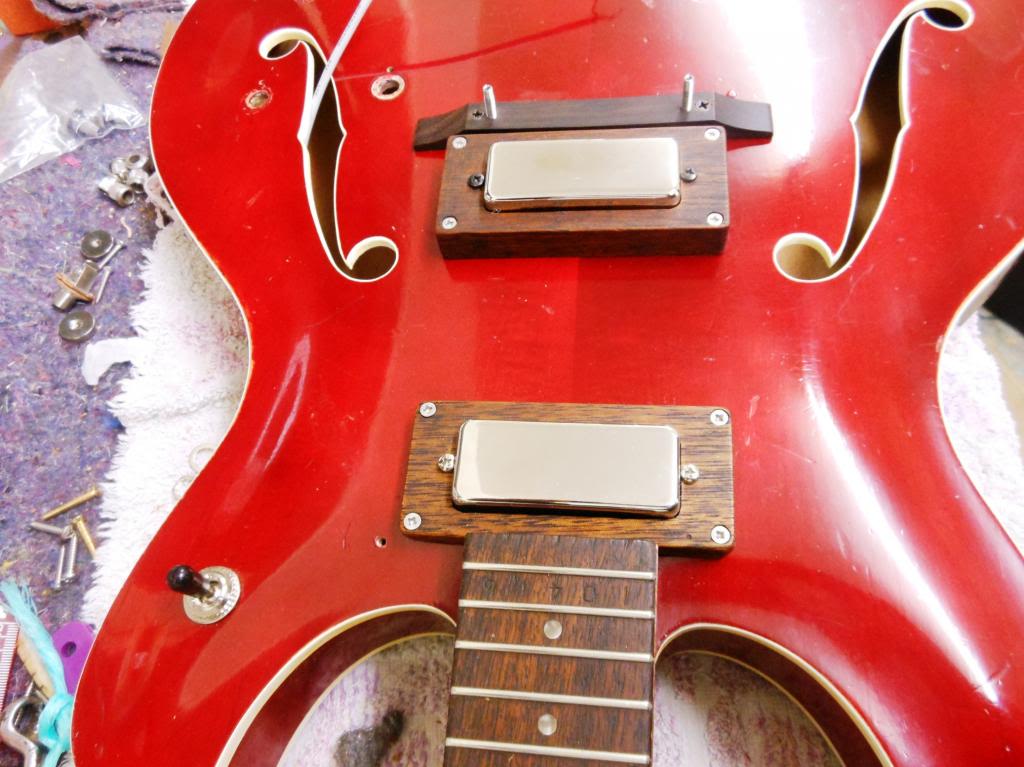 Hopefully I can get some more wiring done later this week.
It is now 11:20pm = bedtime.
Sun Jul 07, 2013 9:43 pm
Back again and happy to report that this Superaxe is ready for another few decades of rocking.Before the overdose of photos below, first a quick summary of what has been done to restore this SA30:
– All frets removed and fretboard sanded to remove slight warp.
– Fitted new vintage style frets of exactly the same dimensions.
– Fretboard dimples filled with saved sanding dust. Almost impossible to see them now!
– Fret board oiled with Lizard Spit which brings out the beauty of the Rosewood timber.
– New Grover tuners exactly fitting existing screw holes to avoid drilling new holes in headstock.
– Installed a new bone nut
– New pickup mounting rings made from Merbau timber, stained to match fretboard.
– Installed two DiMarzio minihumbuckers – DP168 for neck and DP198 for bridge.
– New roller bridge and rosewood bridge base
– Block of softwood installed under the bridge to limit feedback.
– New pots, knobs and three way switch. All wired as per original SA30 diagram but added a high bypass filter on the volume pot (Works well!).
– Drilled a hole through the queen's head to make a whammy bar spring adjuster.
– Filled the whammy bar tail piece holes in the body with wood and redrilled holes.
– Touched up the few body spots where the original cherry finish had come off.
– Body polished to remove 45 years of grime and bring up the shine.
– Truss rod tested and adjusted for setup.
– Fully setup for lowish action and perfect intonation using Slinky Custom strings (11-48)ps – not decided on a pick guard yet.My verdict on this project – it was well worth it. The minihumbuckers really 'shine' in this guitar.
I hope to post some soundclips in the near future.Okay, photo galore below and always happy to hear your feedback.Whammy bar spring needed adjustment, so I drilled a hole in the Queen's head..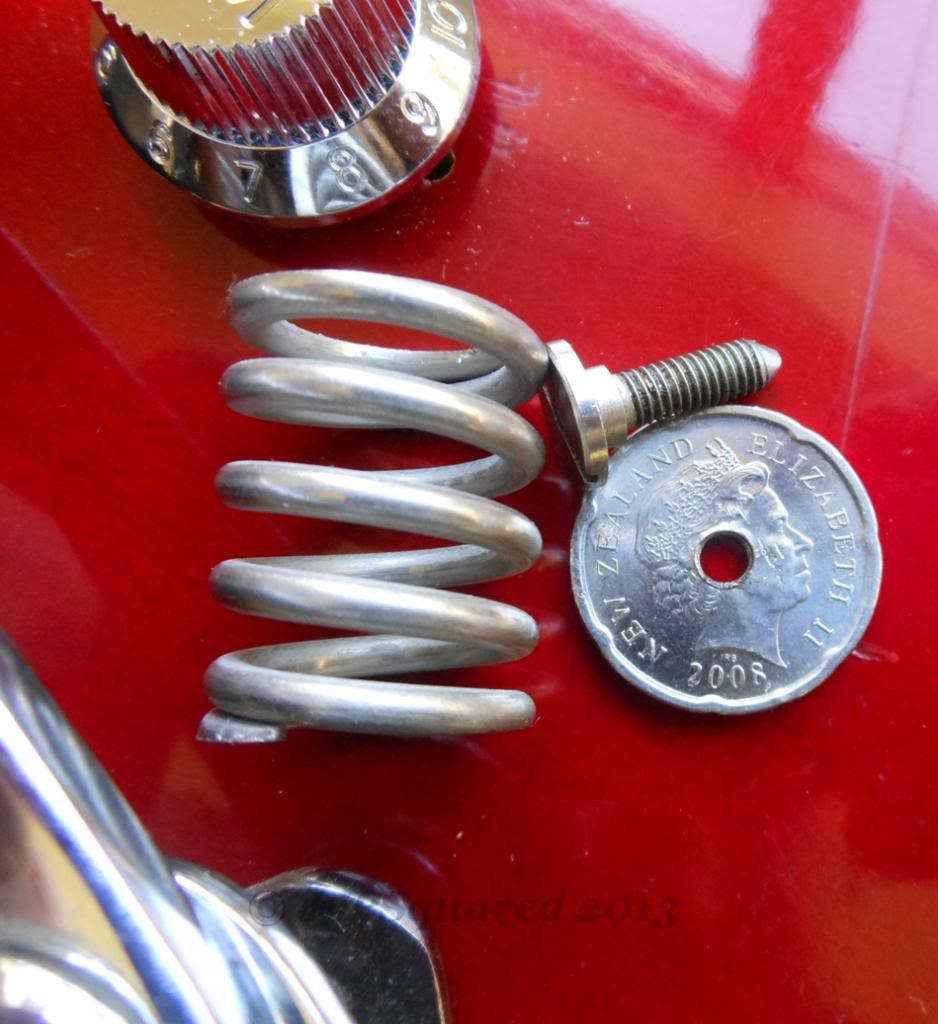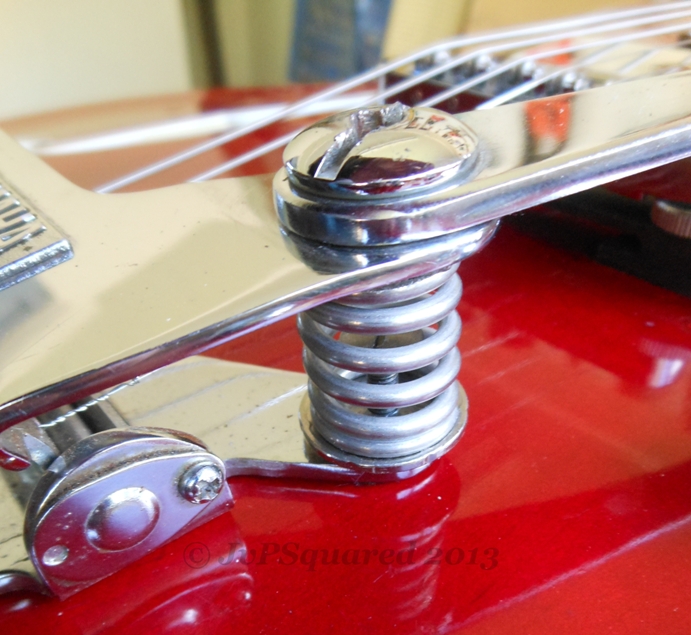 Body shots in the green outdoors: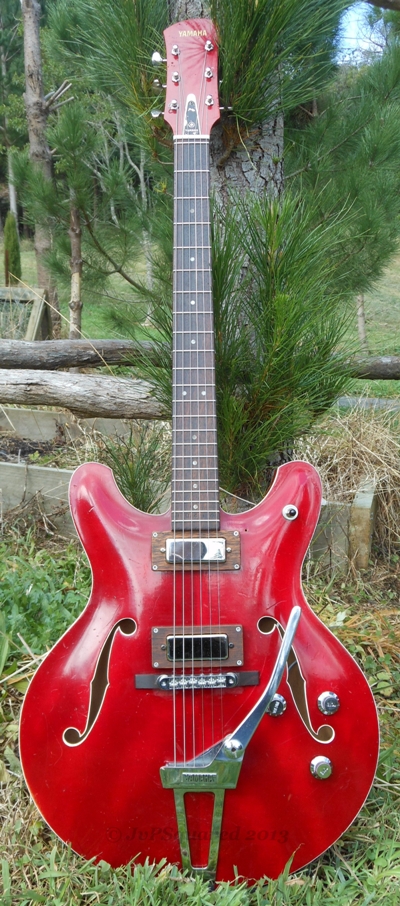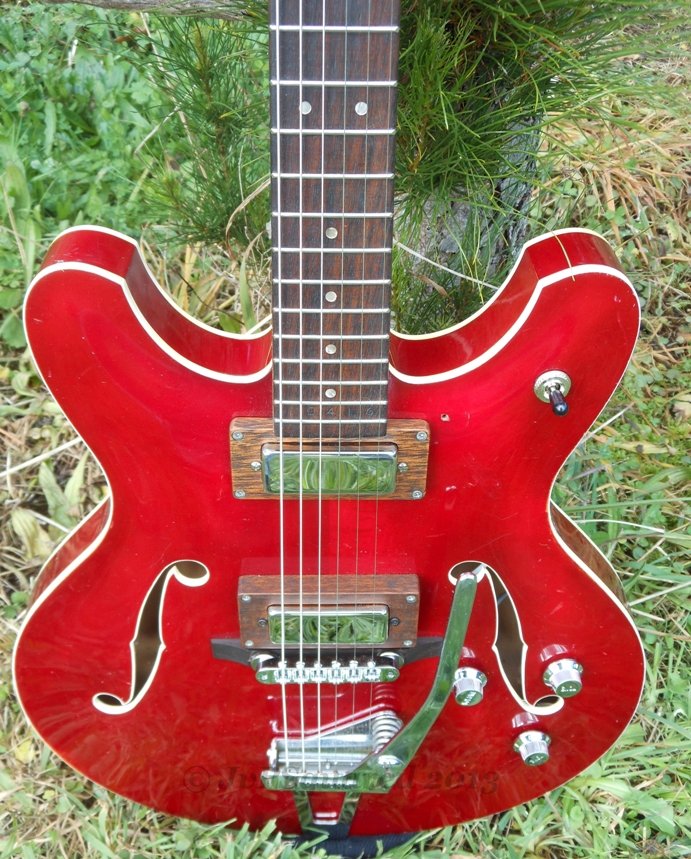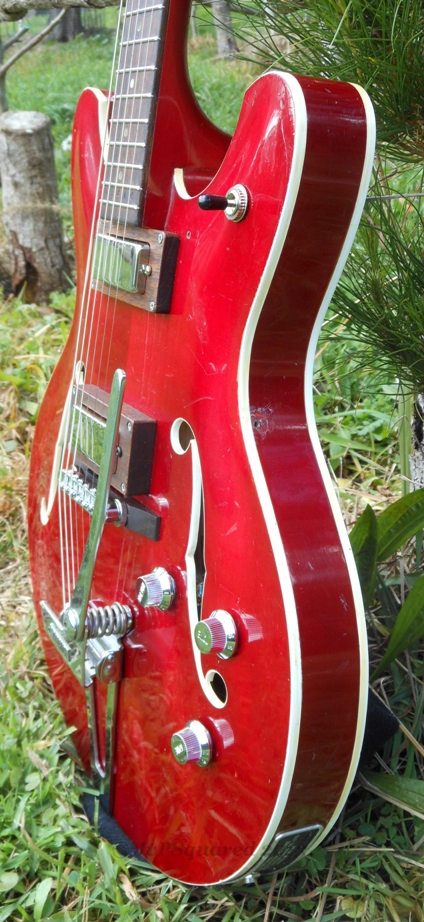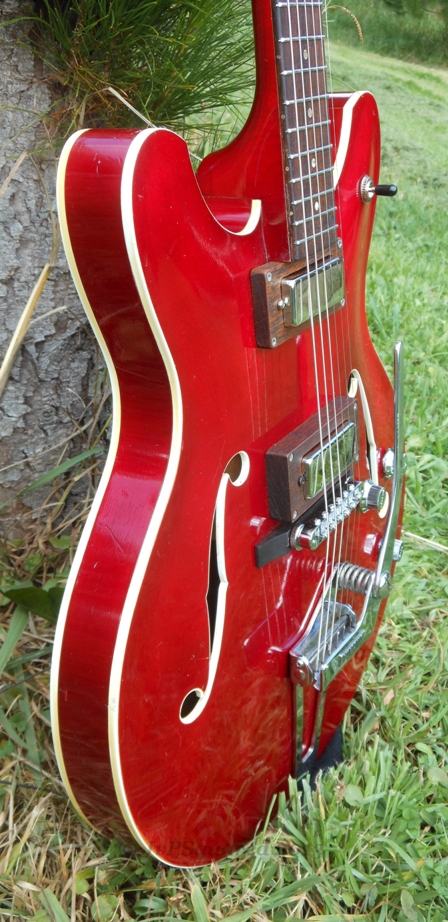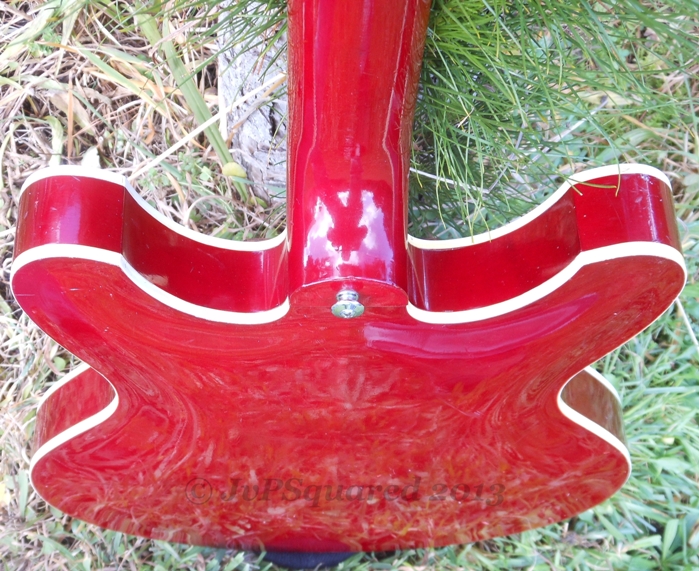 Headstock shots: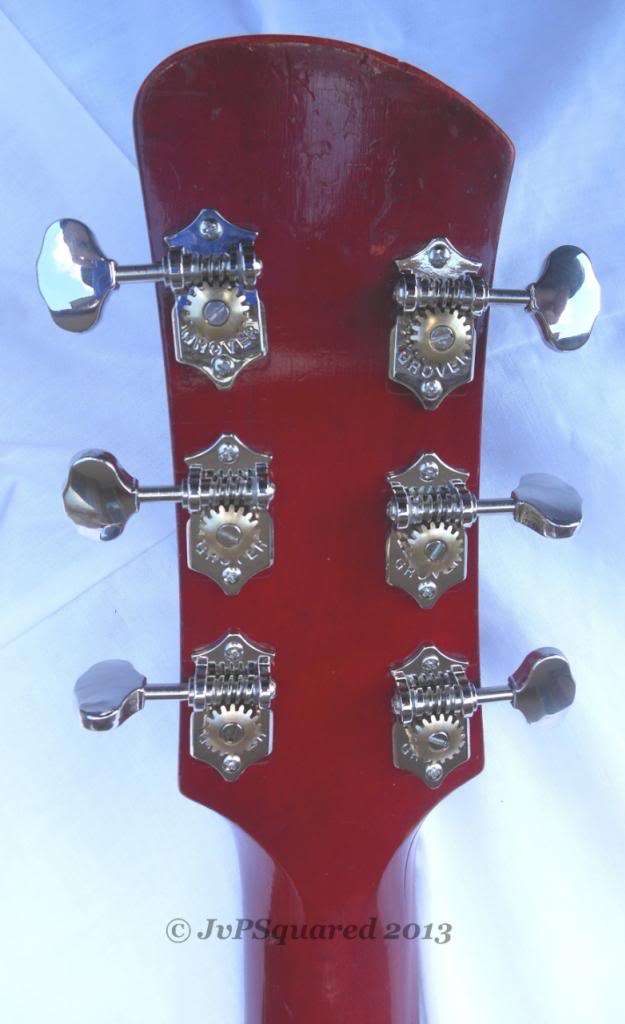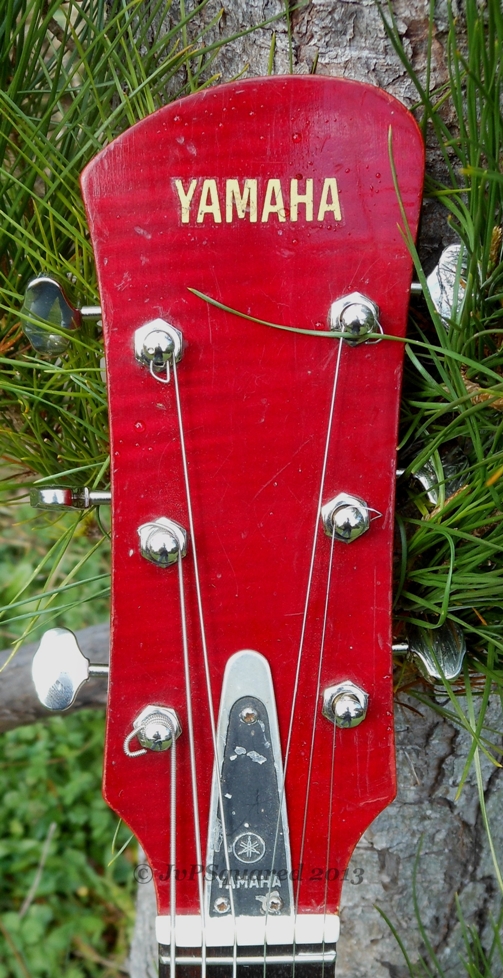 Neck fretboard Shots: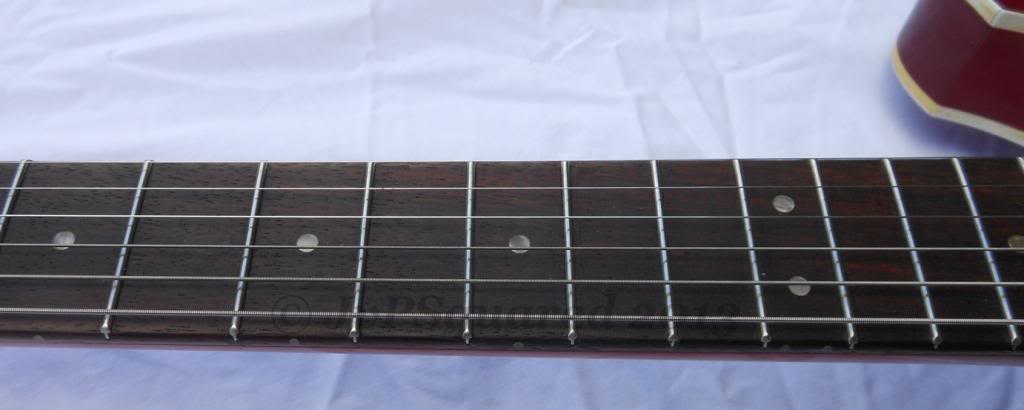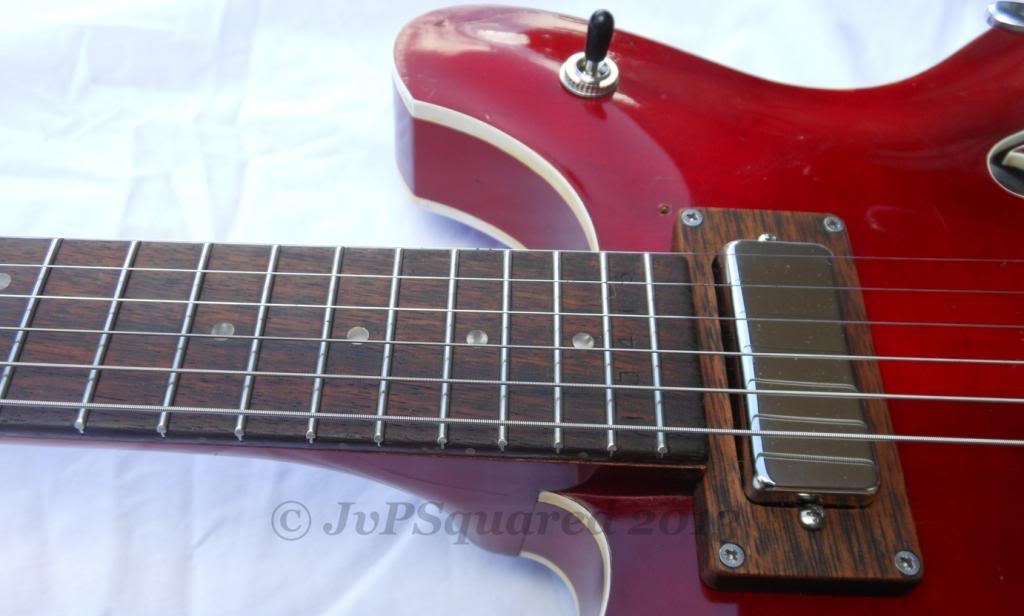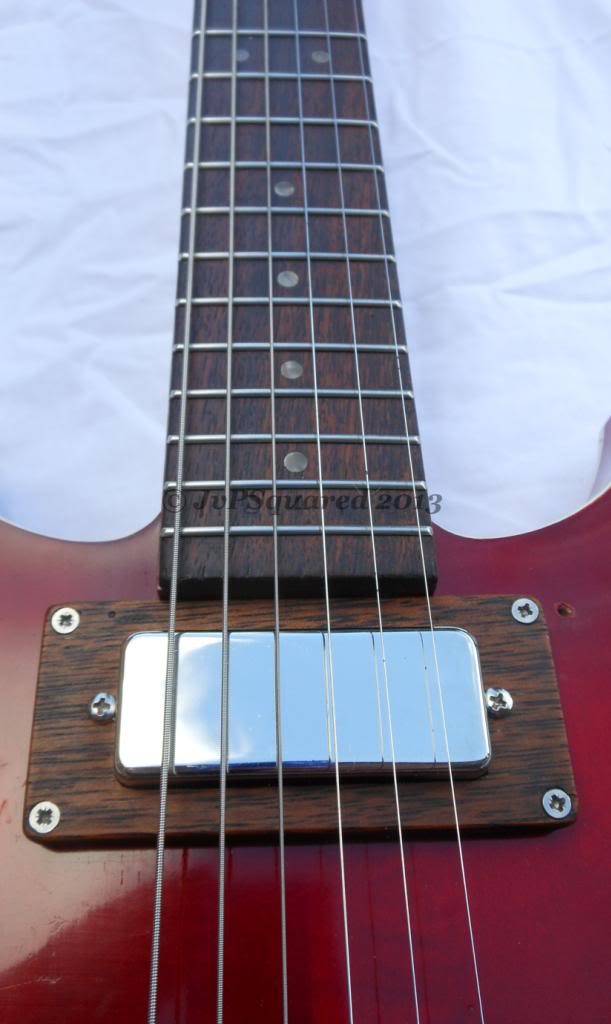 Clean bodyshots trying to capture every ding, scratch and whatever has happened to it over the last 45 years…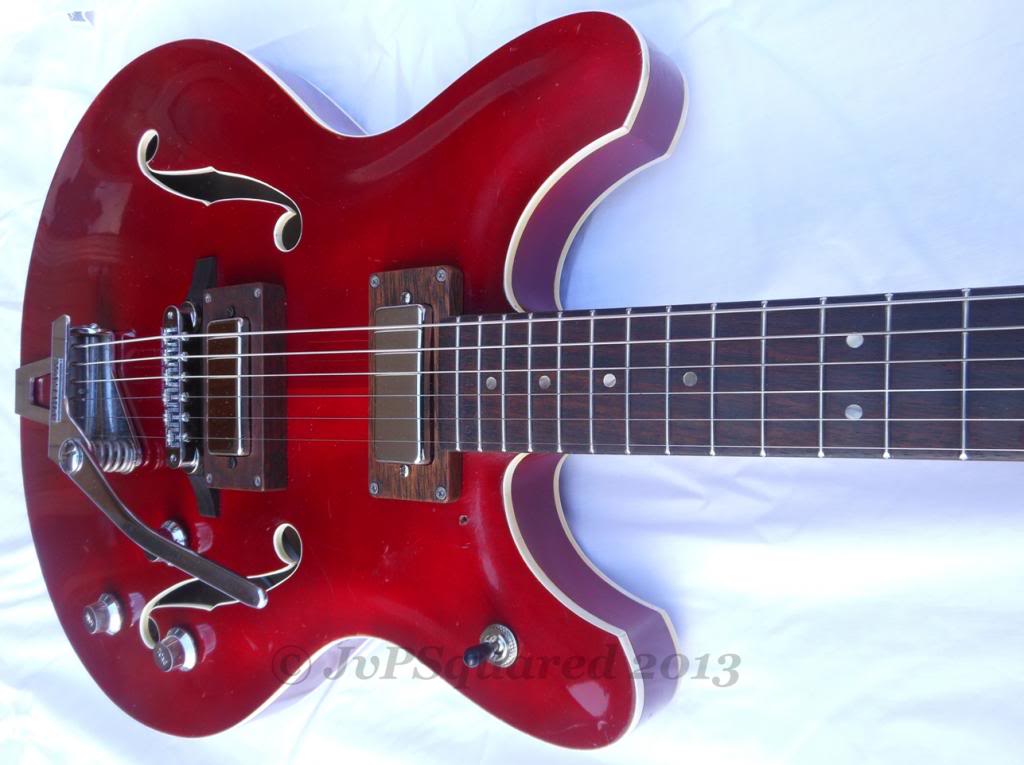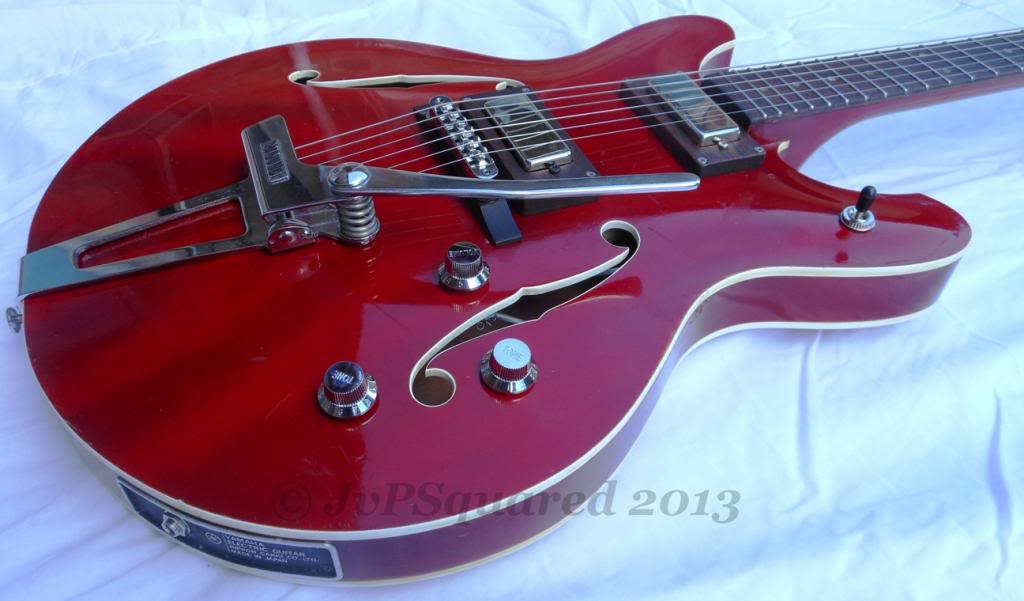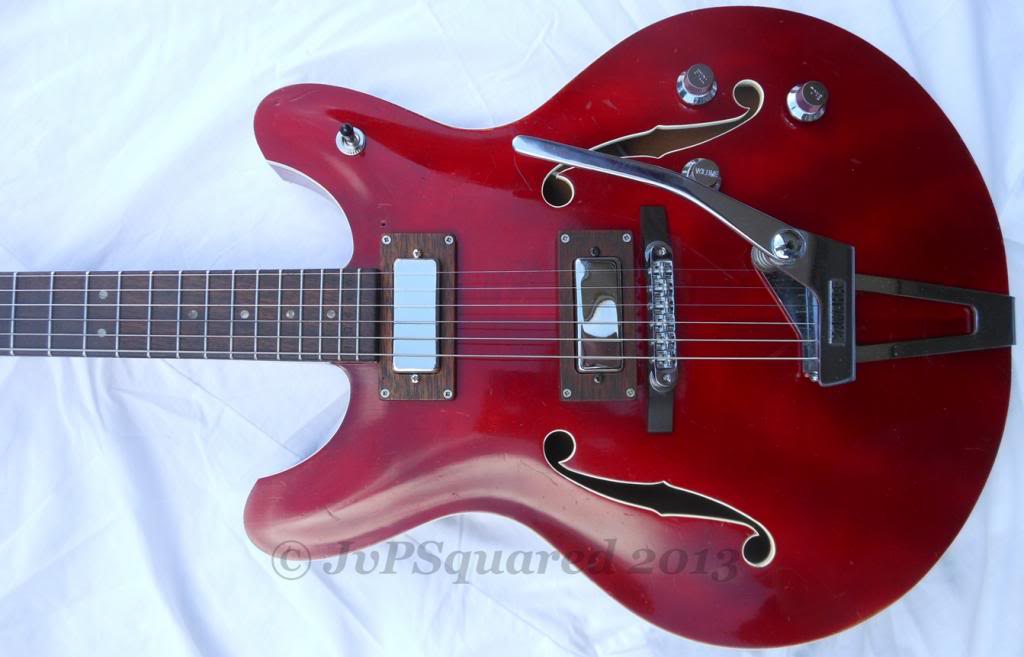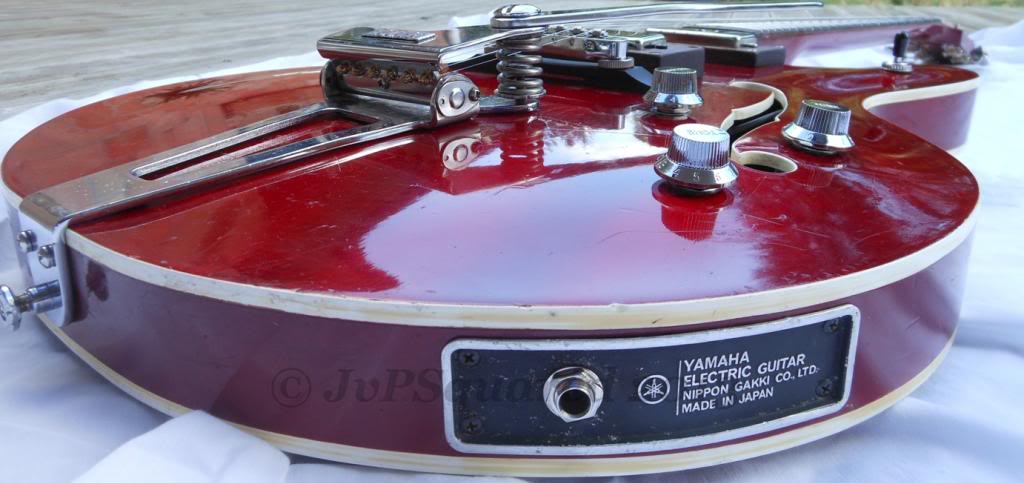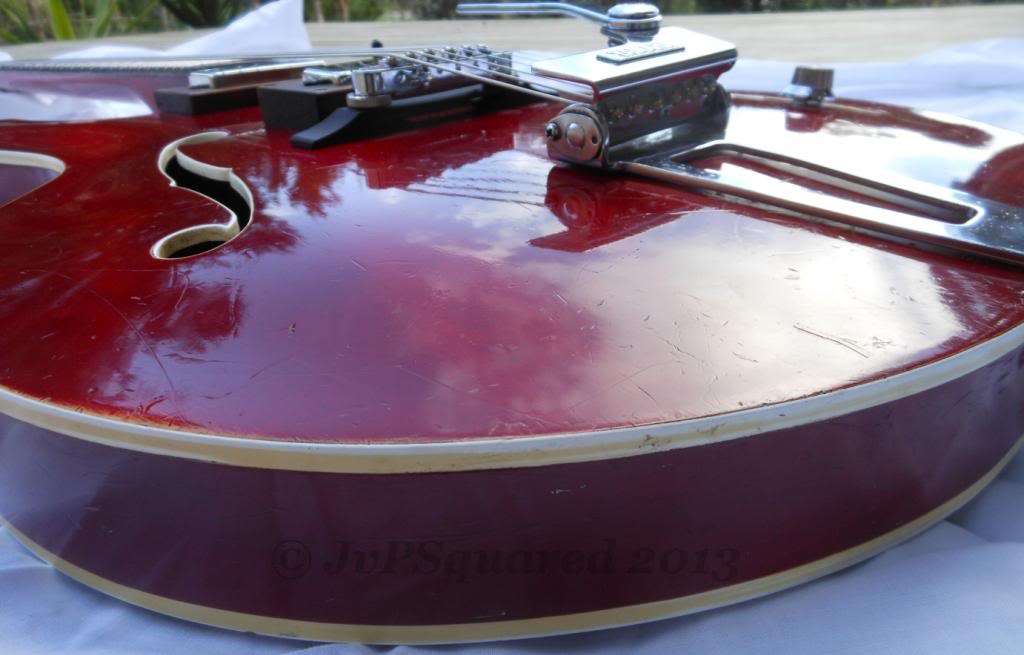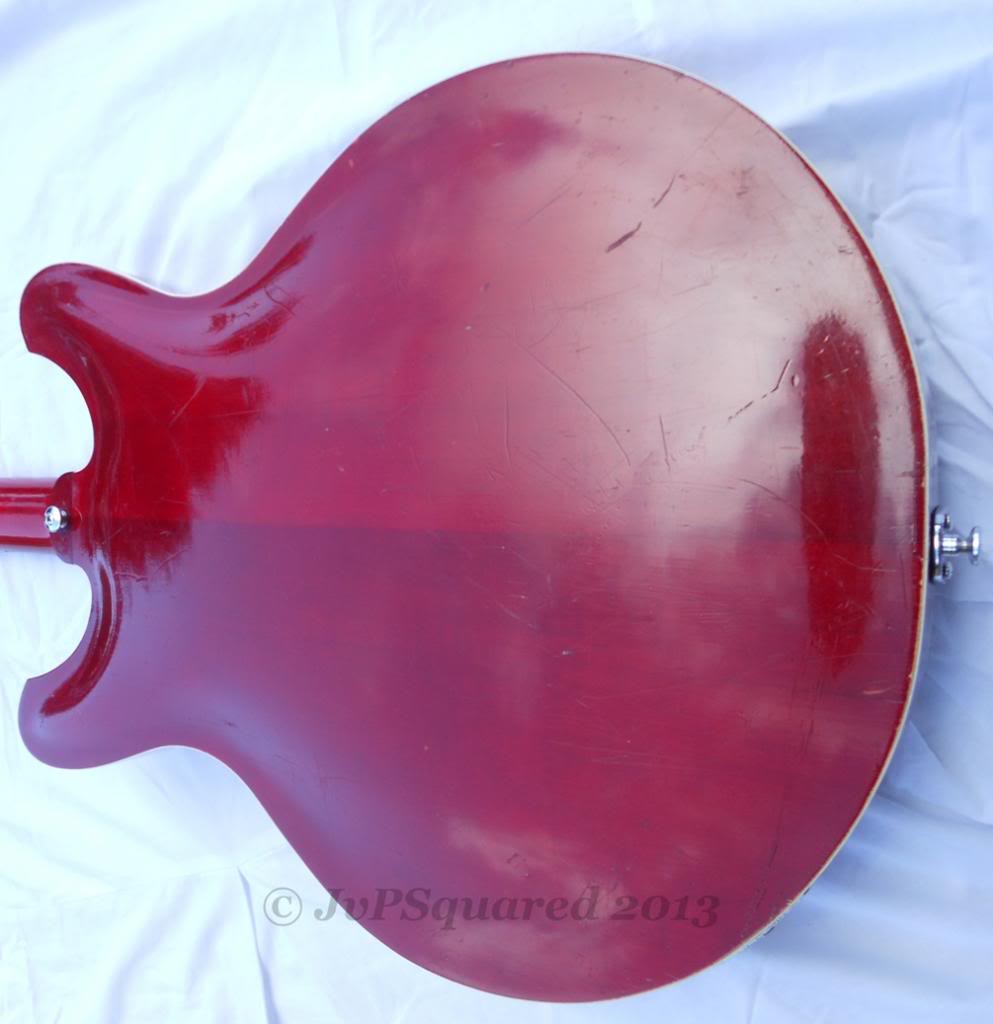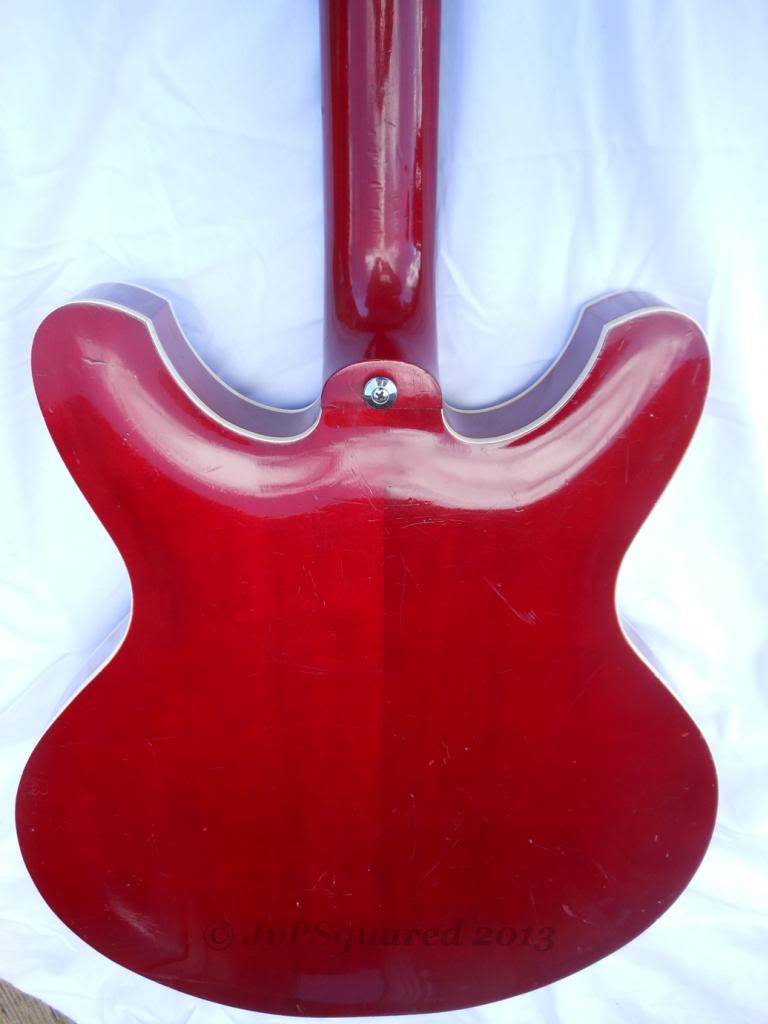 Last photo – Yeah!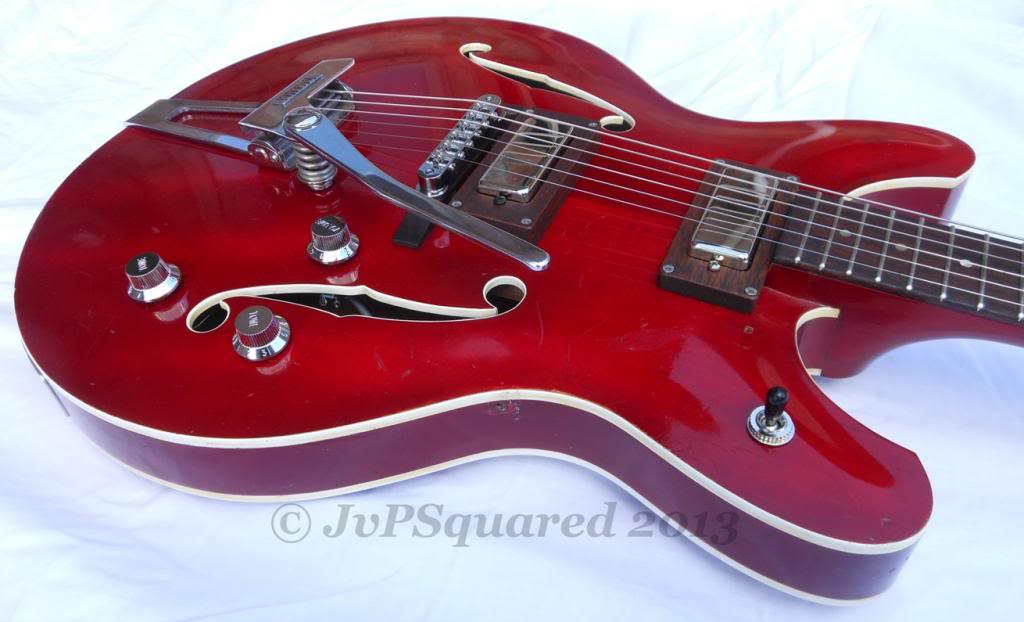 Thanks for following this blog, I hope you enjoyed it.
Sun Oct 20, 2013 5:08 pm
I have had no chance at all to do some recording with this recently restored SA30, but, I do have some sort of a sound clip…. It gives you some good idea of how the guitar looks in action, but the sound is, ah well, so so. My brother in law was kind enough to give it a go during a band rehearsal. Don't listen to the singing, focus on the guitar
Solo starts at about 2:00 and you may even recognise the song.
ps – little camera could not cope with the noise level the first two seconds – beware!