The making of the Strat neck inlays in chronological order. To enlarge the photo to full size, click on it.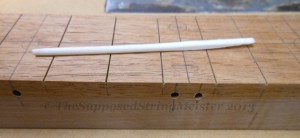 A bit of cow bone sanded into a smallish cylinder to make the side dot inlays.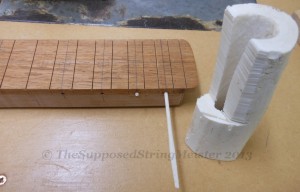 Here the bit of cow bone and gluing in the side dots.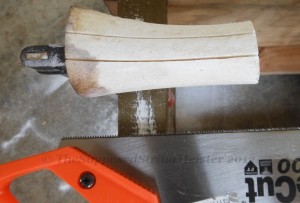 The following photos show how I saw  the cow bone into something that resembles a three dimensional rectangle…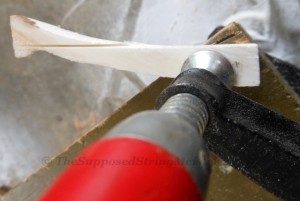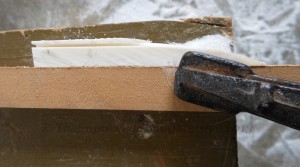 Without a vice I need to use a clamp to saw the bone.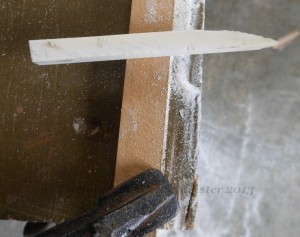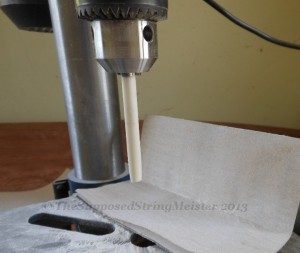 Starts to look like a rectangle, or at least some of it.
Done.
Here the required shape… ready to be sanded into cylinder.
I am using a drill press and a bit of 80 grit sandpaper to create a 'mostly' round cylinder.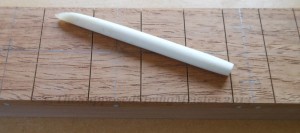 Not a perfect cylinder but each dot will be sanded to a circle with 6mm diameter.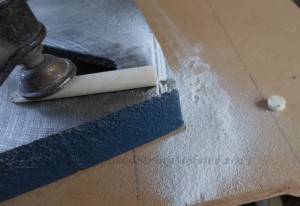 Sawing the dots, each one about 2 mm thick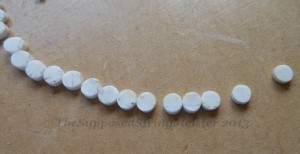 Enough dots for this neck.
Positioning the dots on the board.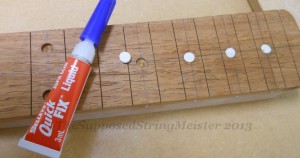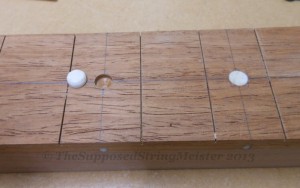 Holes drilled, sanding each dot to its final shape and gluing them in.
The edge on the back of the dot is sanded round so it can be pressed in easily.

All dots glued in. A few small errors but only when you look closely.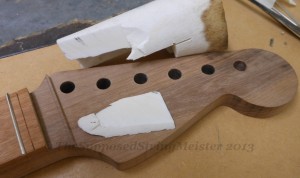 The same bit of cow bone is used to saw the bit required for my logo: JVPP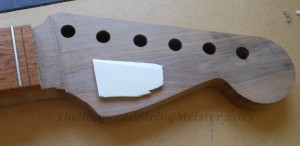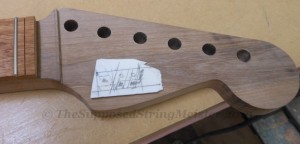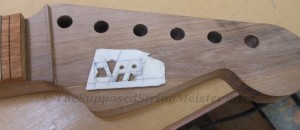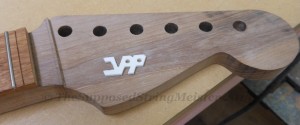 Bit sanded flat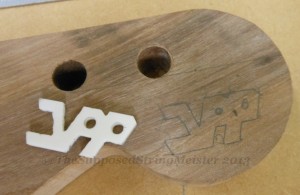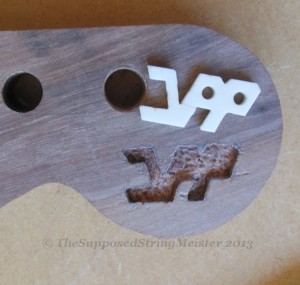 Drawing the letters on the bone with a pencil.
First the 'openings' need to be cut. Such a thin piece of bone breaks easily so the final saw cuts are done when all the difficult bits have been removed with a drill and file.
Logo done, slightly too thick so it can be sanded flush with the headstock.
Marking out the area that needs to be rebated. I use a small dremmel by hand which is not easy. In the future I will have a small template to guide the rebating.
Area rebated. Many, many small adjustments needed to be made to make the logo fit. Very time consuming.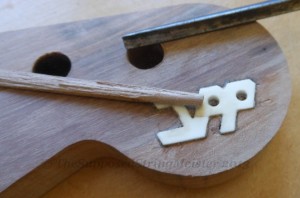 Logo glued in, now the holes in the PP need filling with the same wood the neck is build from (Kanuka).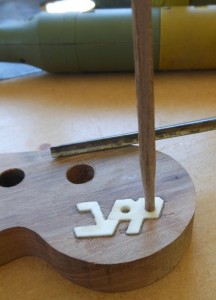 Shaping a bit of Kanuka into a small cylinder, gluing in it and then sawing it off.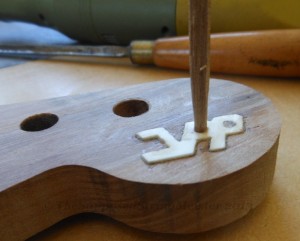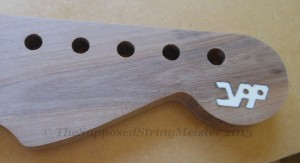 And the next one.
Sanded the logo flush – all done.
Next up Radiusing and Fretting the Fretboard