This was originally posted on http://forum.japanaxe.com/phpBB3/viewtopic.php?f=25&t=2784 before TheSupposedStringMeister blog existed.
Wed Oct 17, 2012 8:41 am
This topic is dedicated to a great (underrated) Yamaha classic guitar range called Super Axe. Specifically the early Super Axes – SA20, SA30, SA50, SA60, SA70 and SA90.Buying a guitar is easy – so I ended up with a few Super Axes.
Restoring a guitar is much harder and more time consuming – I restored an SA30 and a Yamaha FG230.
Building a guitar was the next challenge – so I decided to build one from scratch with the SA30 as a template. My tribute to this classic shape.However, my lack of guitar building skills required that I kept it simple. So no arched top, just flat, and a bolt on neck. This is my practice run for eventually building a real archtop guitar.
My thinking was that making the neck was the hardest so I should start with that. If I could build a playable neck then I would continue with the body.In the mid nineties I cut a medium sized Kanuka tree down into planks and stored them under the house for making some furniture one day. Kanuka is a hard wood and very strong and dense. So one day a few months ago I pulled a plank out and the neck building had started.Here some pics. Oh, and you will notice that I don't have too many tools, so there is a lot of elbow grease involved! Doesn't look much…

One side done…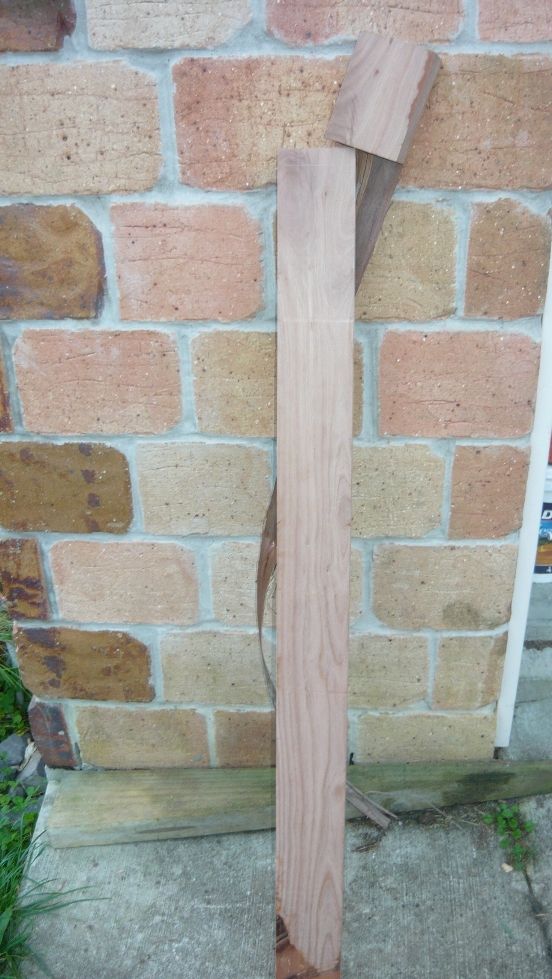 Nice plank, nice grain…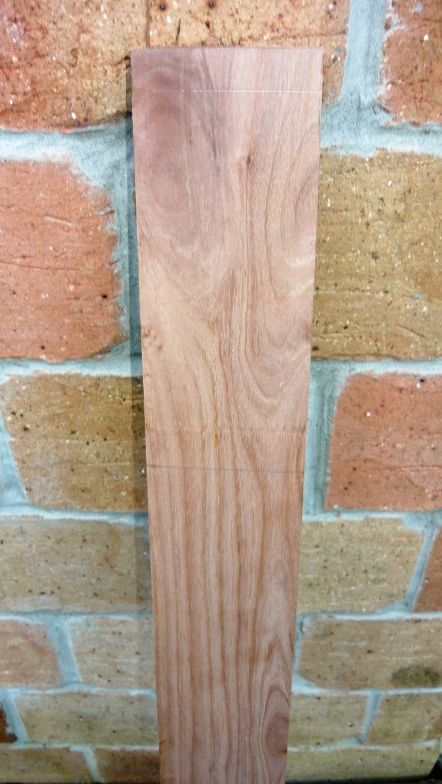 Very professional… First mistake, cut the head stock angle too shallow.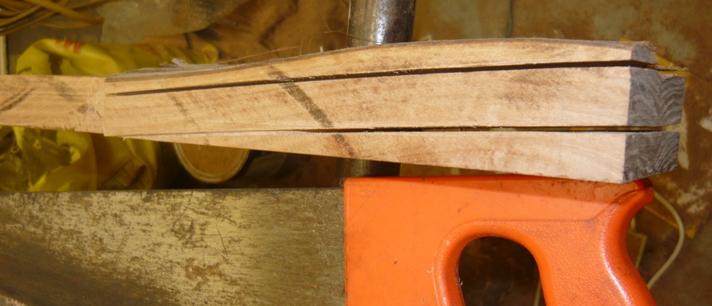 Thu Oct 18, 2012 7:09 am
Anyone who's build a neck before…. yes, I found out the hard way that this is not the correct order of doing it!
Shaping of the neck happens at the end not at the start. Anyway, I managed the hard way.
Here I am hand sawing the neck to about 48 mm width at the nut end and about 60mm at the other end. This leaves plenty of room for errors and finishing. A standard SA30 has a neck width of 43 mm at the nut.A simple truss rod slot was cut on the saw table. Truss rod is a 5mm bit of steel you can buy at any hardware store. I don't know what sort of truss rod an SA30 has so this has to do.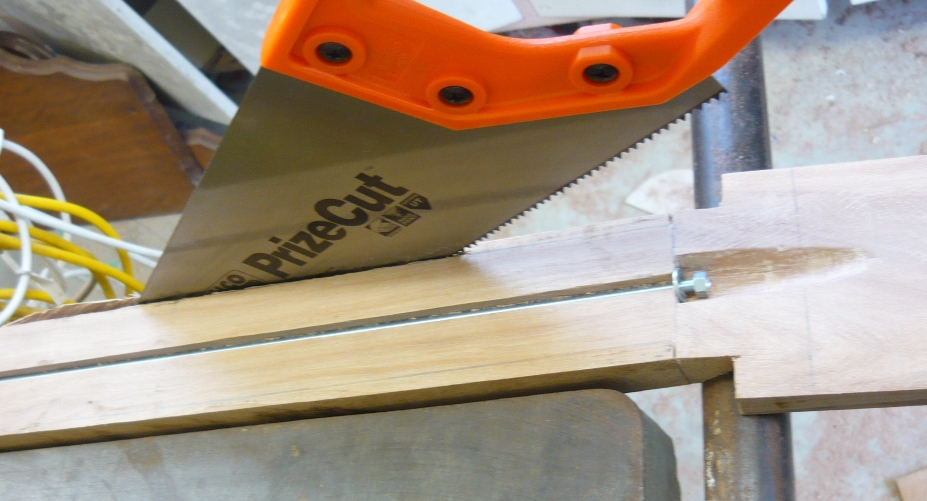 Here a pic of the headstock. To correct the shallow angle, I glued the cutoff onto the back of the headstock and cut another piece off of the front. I am happy with the result as the pieces match quite well with only a very thin joined visible.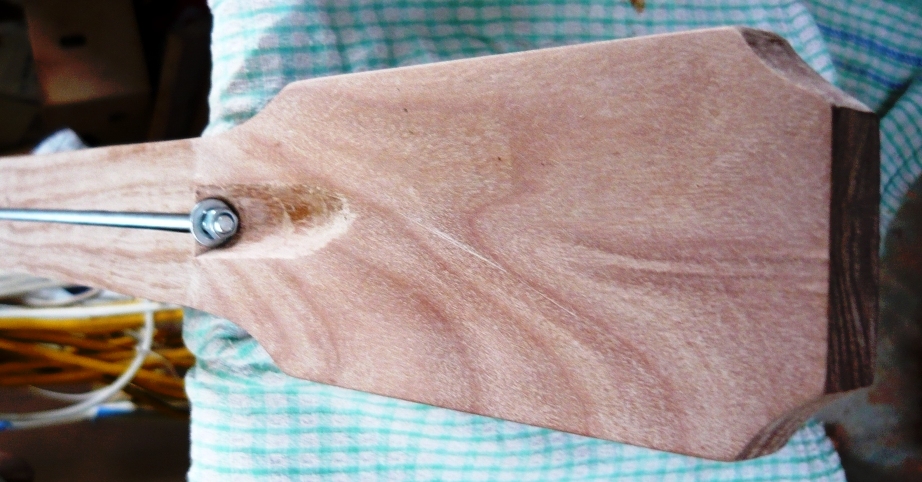 A couple of pics of shaping the neck with some basic tools.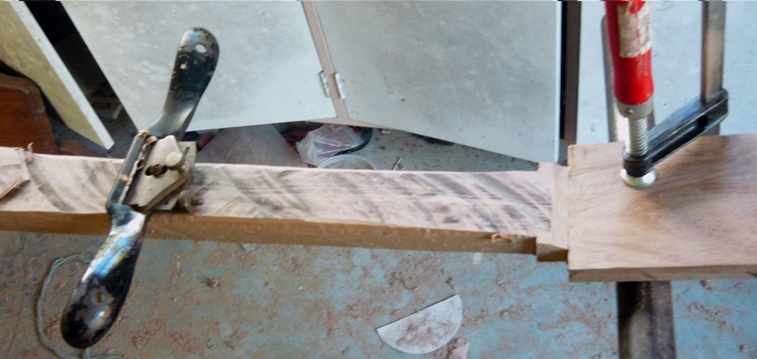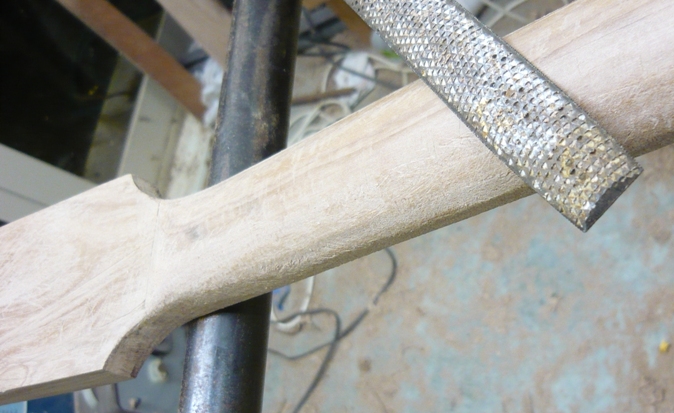 And finally closing off the truss rod channel with a strip of Kanuka timber. The locations of the tuners have also been marked.

Next the fret board.
Thu Oct 18, 2012 7:29 am
I bought a bit of rosewood from a local timber merchant and cut a couple of boards. First one wasn't very good as the thickness varied too much. I thought the second was good enough to continue with. So I lined it up along side the neck of my SA30 and very professionally marked the positions on the fret on both sides of the board. Cutting the slots was not easy as I needed to find a saw that had the right set for the fret wire. In the end I used an everyday hacksaw for which I had adjusted the set to accommodate the fret wire tangs.Cutting the slots by hand is not recommended but I managed.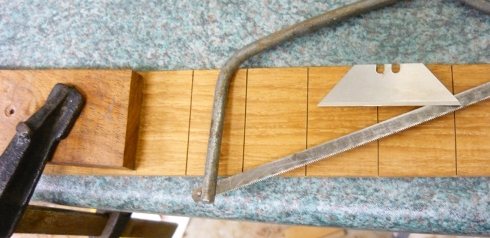 I then glued the board onto the neck – big mistake! The neck wasn't perfectly level and after clamping the fretboard on it followed the neck's uneven surface. Bummer.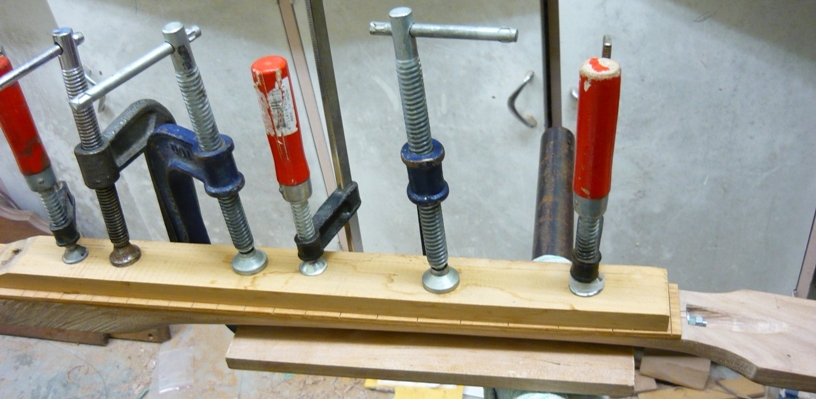 So I had to sand the fretboard to get it straight. Btw, no radius for the fretboard, just flat as I did not have the required tools. Feels a bit funny but as this will be a bolt on neck I can always change it for another one in the future.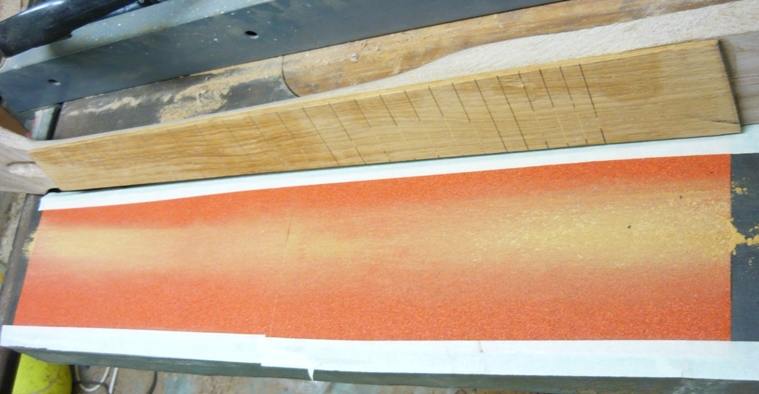 Next up putting the frets in. No photos of the actual fretting. I hammered them in gently and managed to get it done without having to resort to using superglue to keep them in place.
Now you know why the neck is not shaped until after the fretting has been done!!!
Thu Oct 18, 2012 7:48 am
Time for a test drive!
With the fretboard in place and all fretted up it was time to test my neck building exercise. I wasn't going to start on the body until I knew I had something that was playable.
So I cut bone nut and drilled the tuner holes. I had some spare Gotoh tuners that could be used for the test drive. Here a pic of the headstock with tuners and nut. Note the zero fret.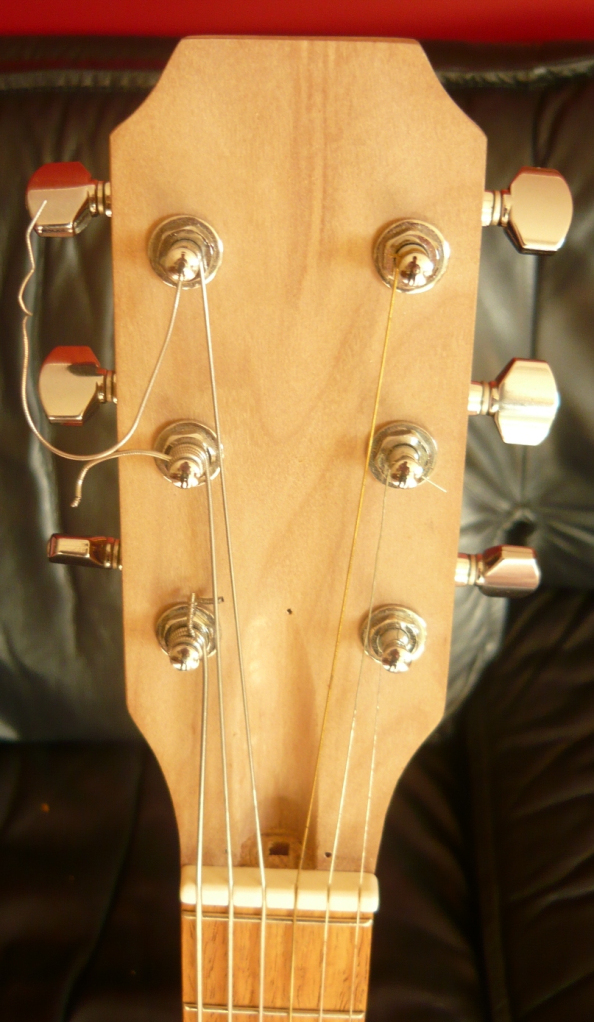 The neck needed a simple body for the bridge and tailpiece. A piece of 5 ply board was used, holes were cut for mounting the hardware and a single volume pot and humbucker.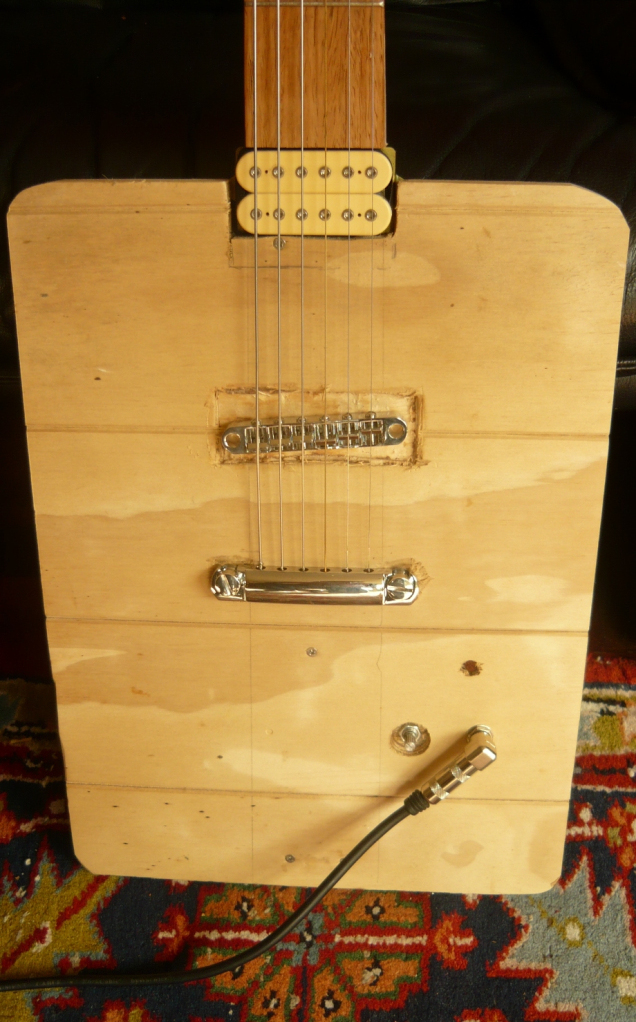 I strung her up with 11's flat wounds and put a DiMarzio Humbucker from Hell in (borrowed from a mate). This humbucker is designed for the neck position, and man, it is a great humbucker. So below a photo of the LOG as I called her. (You know where that came from don't you?)

Summary of the test drive:
In short, I was VERY HAPPY with how the neck performed, the notes were in tune and the intonation was nearly perfect. Action was acceptable and could not be tested as I could not lower the (floating) bridge. I was so happy with playing THE LOG that I did not disassemble her for a few weeks. It was amazing what an enjoyable sound I could get out of that simple guitar! Must have been the humbucker!.
Oh, she was light as – you could have played her standing up for hours without getting a sore back… (remember this statement please…)
Sat Oct 27, 2012 9:44 am
Some more progress… I finally finished the neck! I used several coats of a stain/varnish which I rubbed in by hand. Then finished it with micro cloth for a smooth feel. Also made a truss rod cover from a bit of cow bone. Came up nicely IMO. Tried a bone inlay and cutting it wasn't too bad. The rebating is the hard part. A bit scruffy but I am pleased with it anyway, especially when not eyeballing it too closely. Also changed the tuners to Grover Rotomatics.
There are a few other 'stuff ups' here and there, but overall this is one hell of a sturdy neck! Here some pics.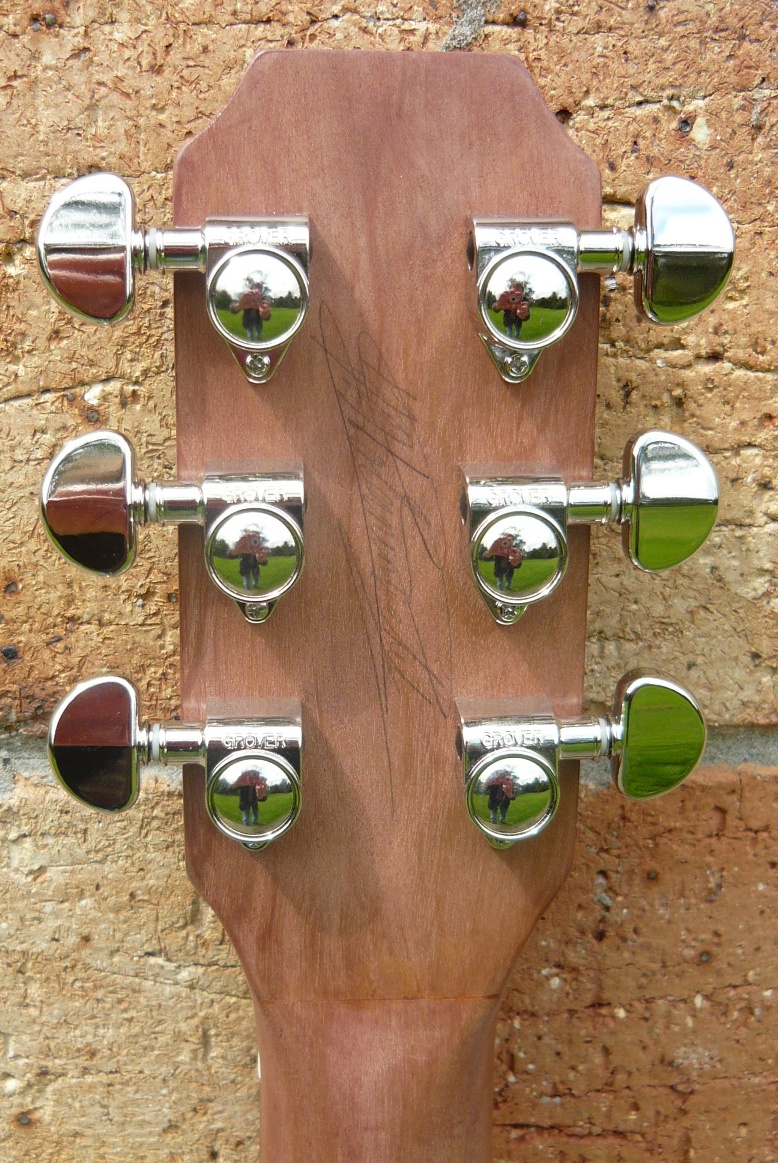 Mon Dec 03, 2012 8:44 am
Well, it has been a while and I have been working on the body. I did it the hard way again… Glued bindings on top and bottom to hide the end grain but the middle bit now needed some padding of about 2mm. So I cut a long strip of about 2-3 mm thickness and steamed it into shape and then gluing it in place. I will never do that again. Too much work.Here a photo showing the binding in place and gluing the veneer strip in. This took a long time and it wasn't easy.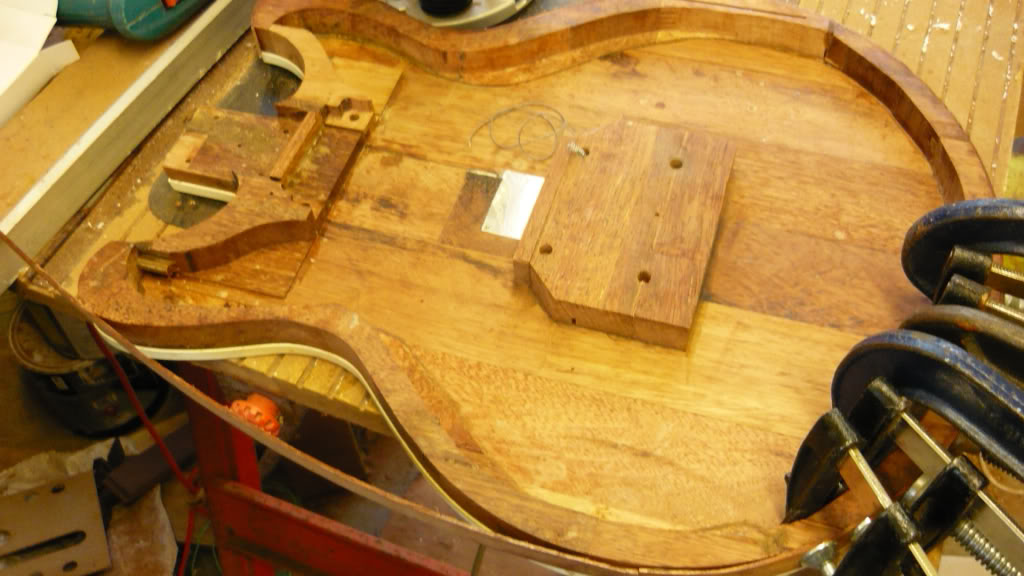 Then I put a little of aluminium shielding on the back of the top board. Not sure if it will help.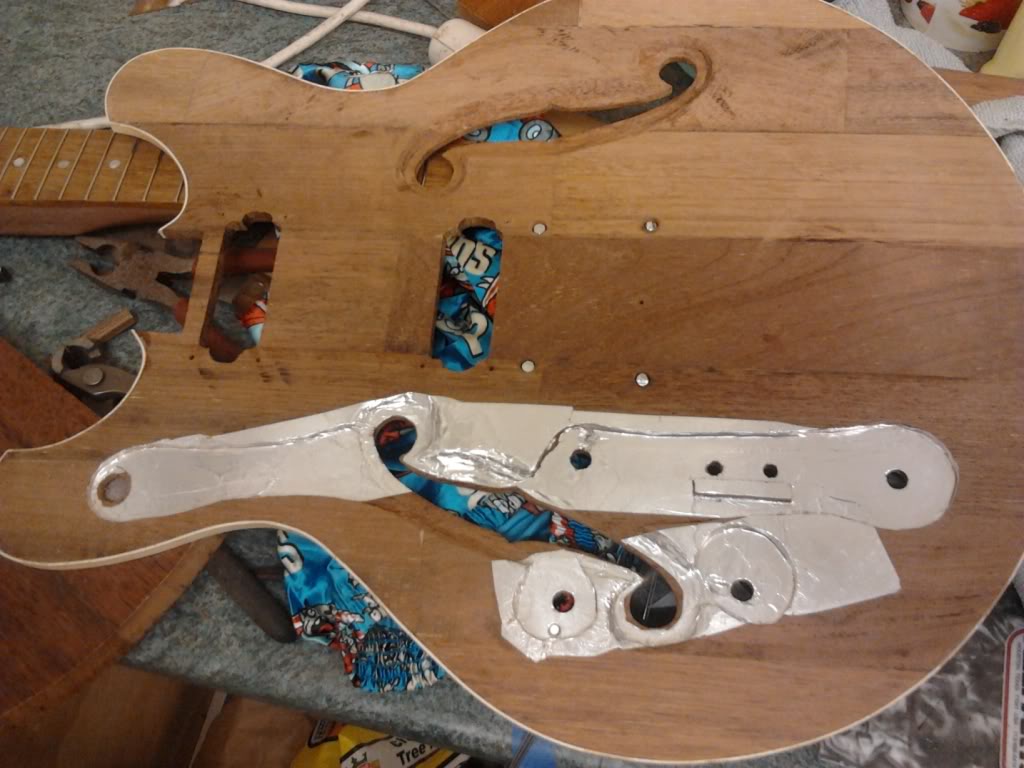 And then it was time to glue the two sides together, never to be parted. Plenty of glue and lots of clamps but forgot to take a photo.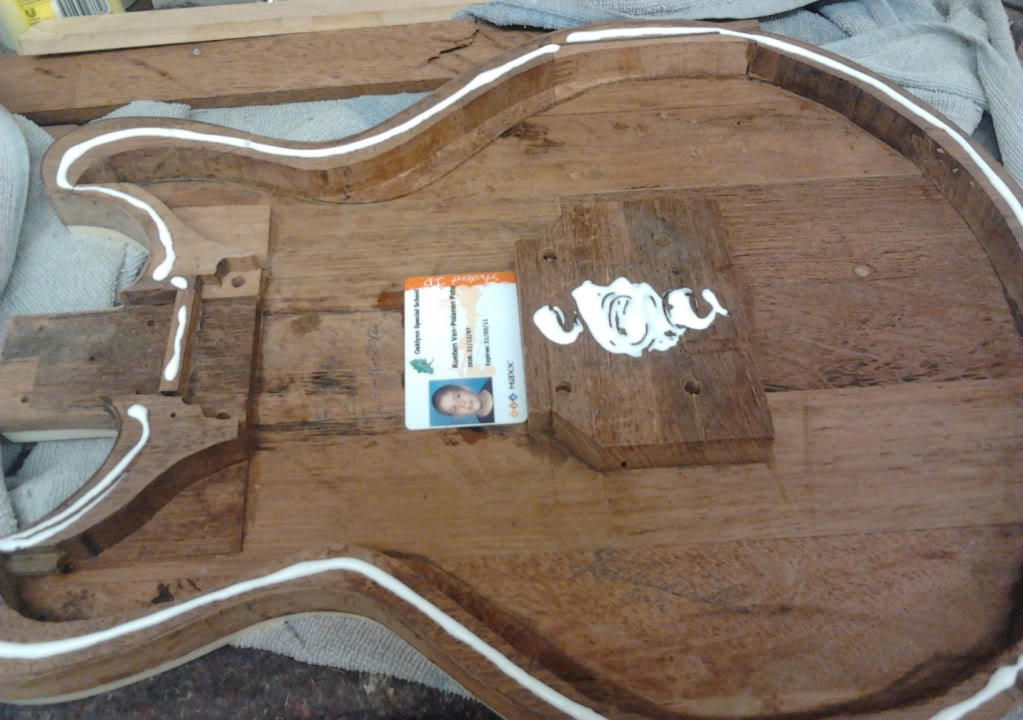 There was an aweful lot of sanding to do to get the veneer strip down to the binding level. Holes to fill, sanding the top and sanding the back and then more sanding.
Mon Dec 03, 2012 8:51 am
And then when it is all sanded the finishing starts. I hand rubbed a water based gloss varnish in with a soft cloth that I wetted beforehand (with water okay).Many coats later this is what we have: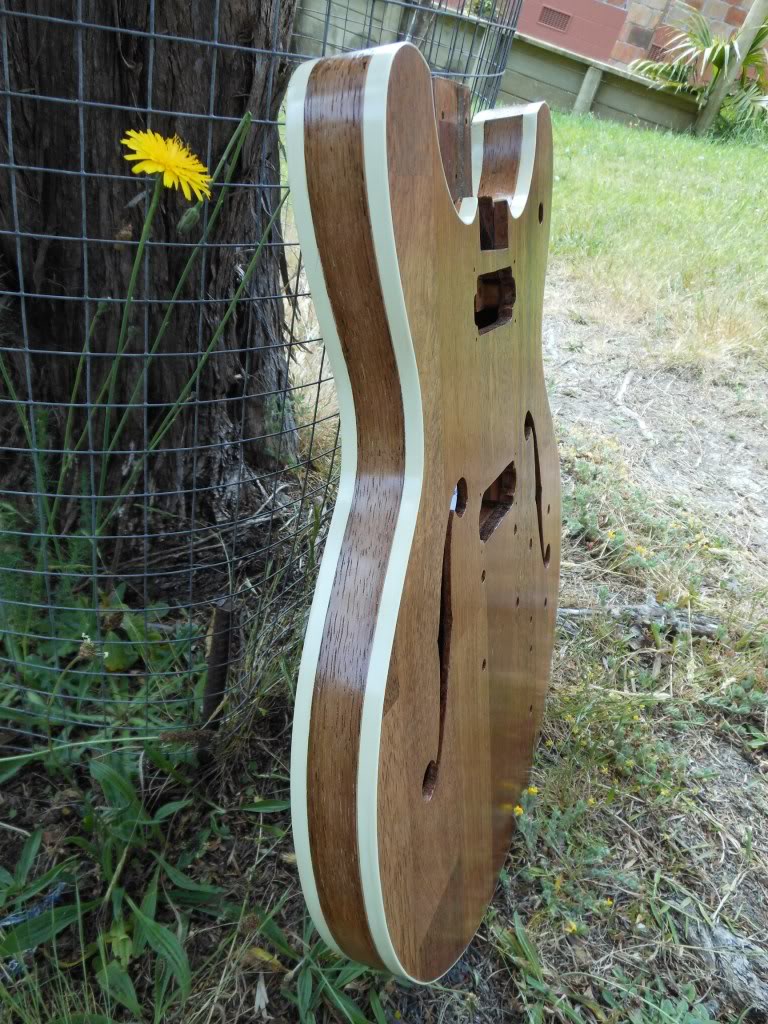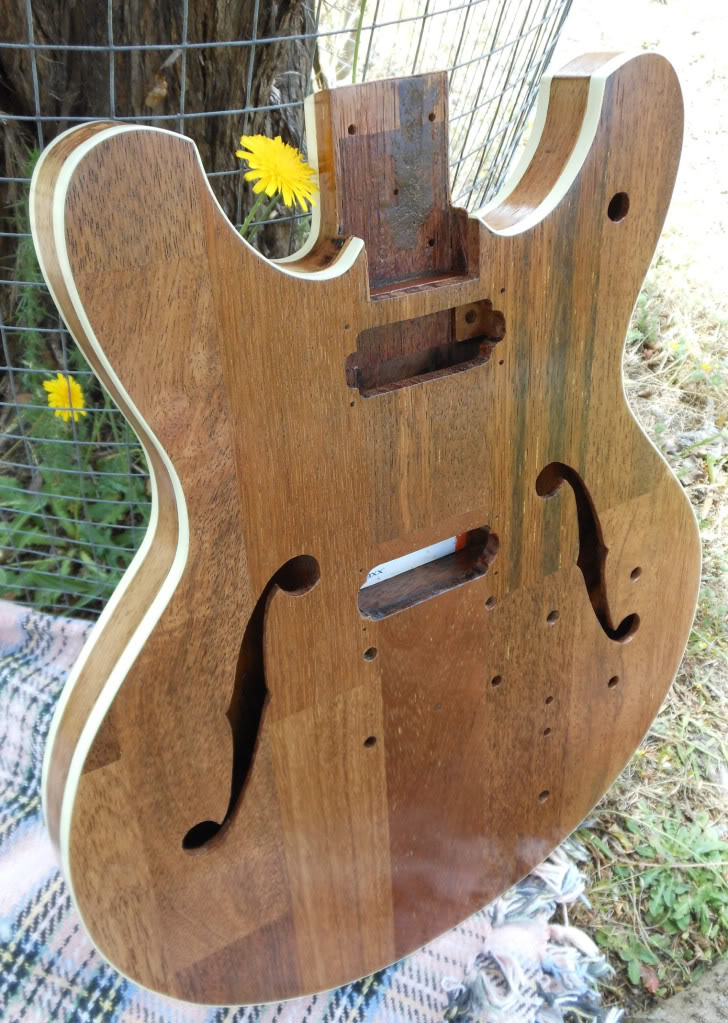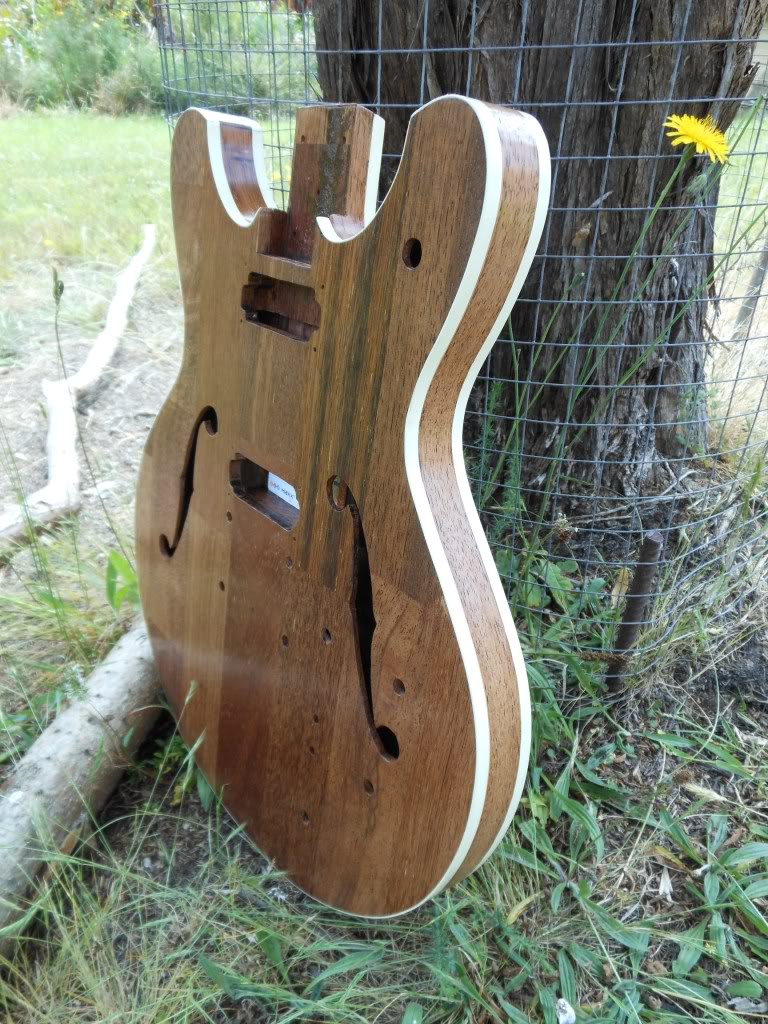 In real life, it looks rather good, even considering that it is made from floorboards….Oh, and btw, I think I know why Yamaha did not stick with those pointy horns… It is darned hard to get veneer and bindings in that shape without braking and keeping the right angle.
Shows you how good these guys were in their days!
Tue Dec 04, 2012 8:35 am
I got some pics from last weekend's surgery….What a nightmare it was…. It must have taken me about 2.5 hours.All of this has to go through the F hole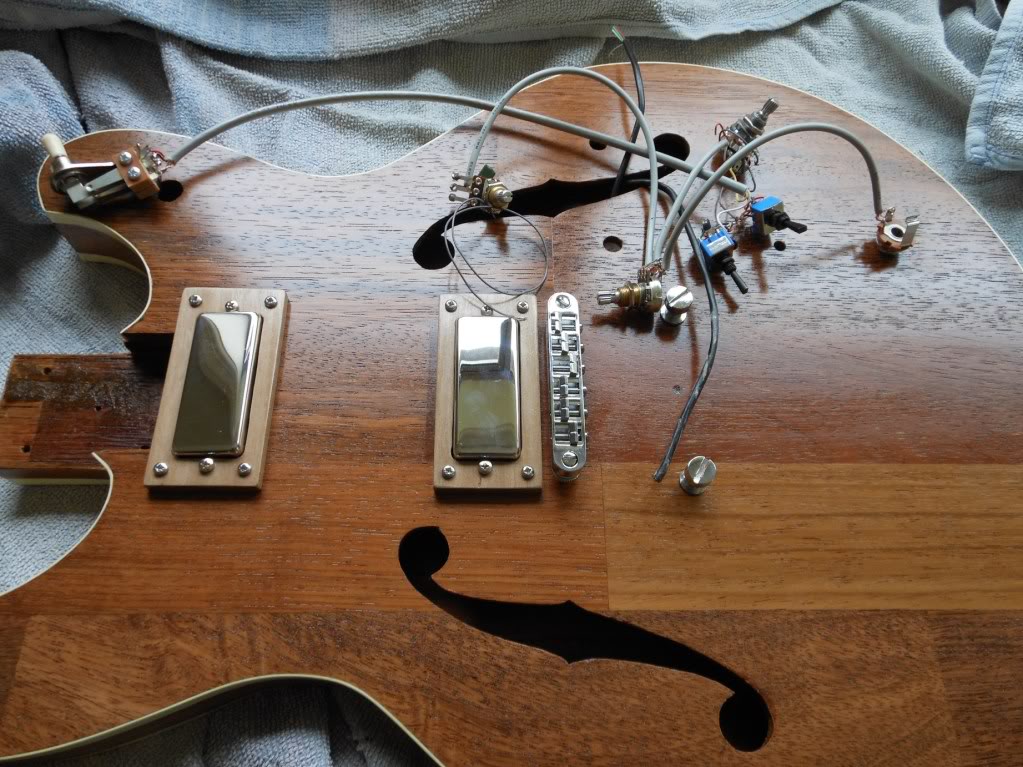 Bits of 'rope' going through every hole to the piece that belongs in that hole….
The pickup selector switch was easy.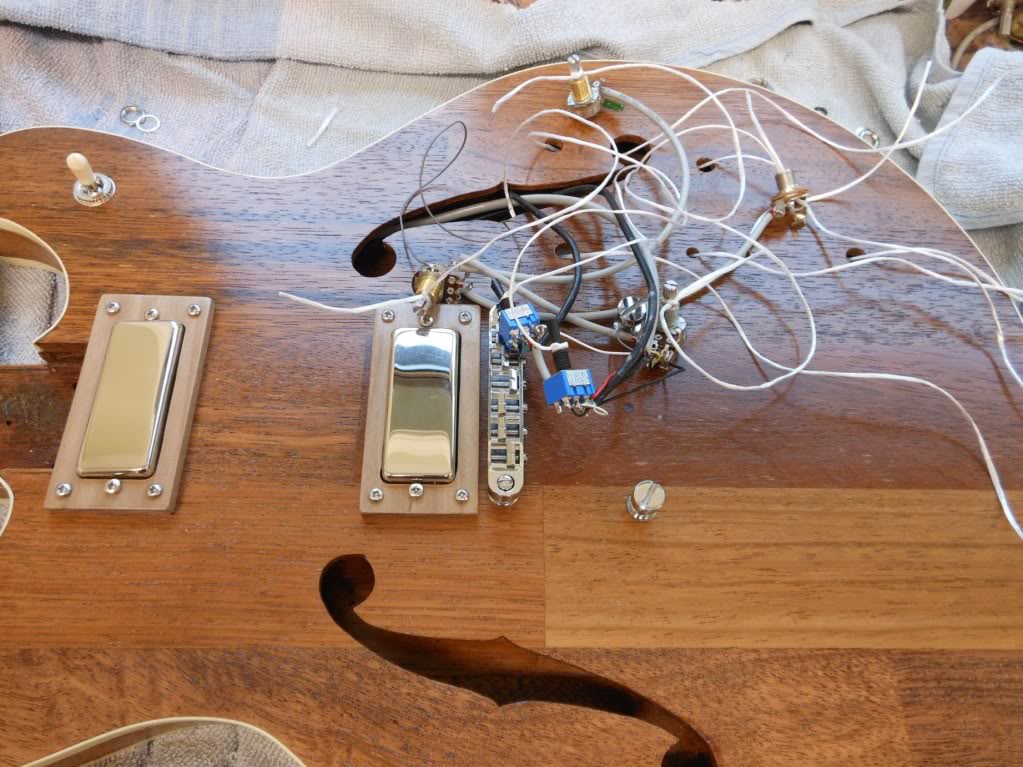 All done. See those two little black switches…. They took forever to get in and I admit, I needed help from my mate Jeff to get them in.
Expect some photos of the fully assembled guitar next weekend.
Sat Dec 15, 2012 8:49 am
All finished bar pick guard. Not sure if I will put one on. She is a heavy beast at 4.5KGs and has some interesting sounds. Really pleased with the Dimarzio mini humbuckers. Strung with 11's flat wounds. Here some pics – (only 9).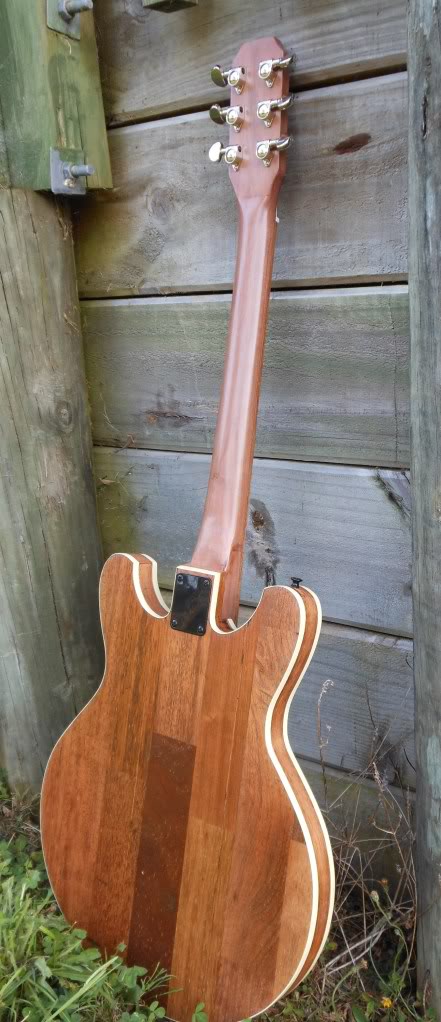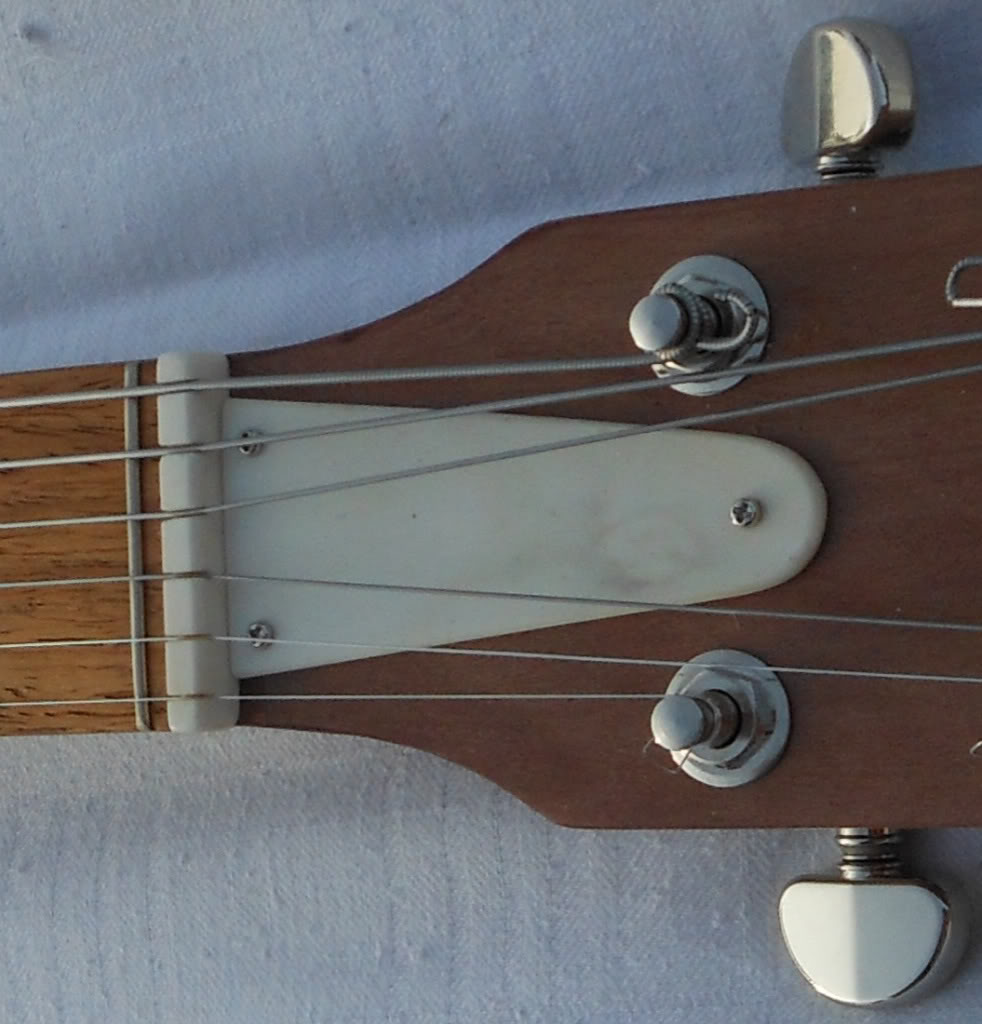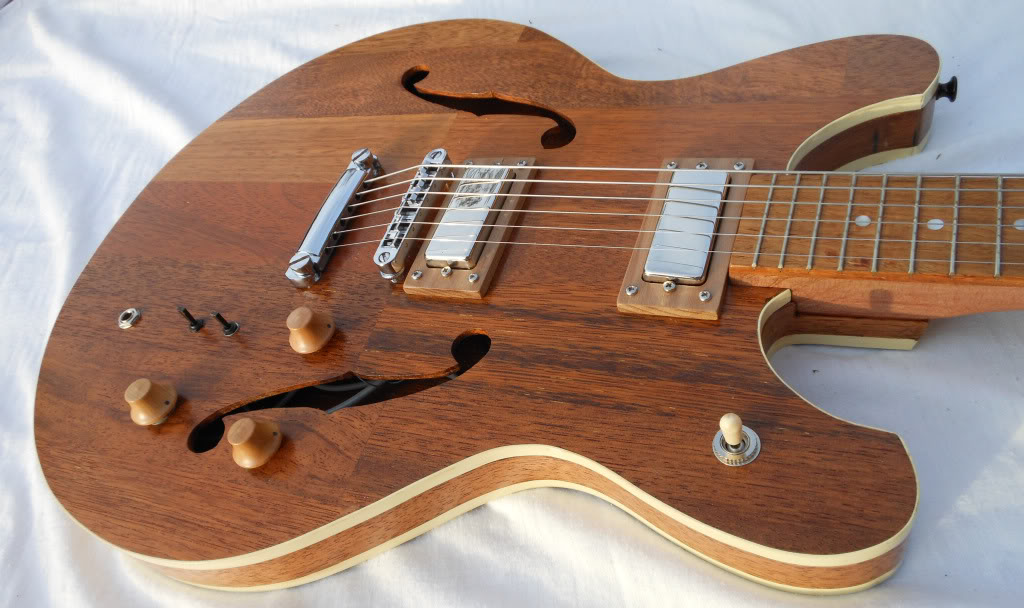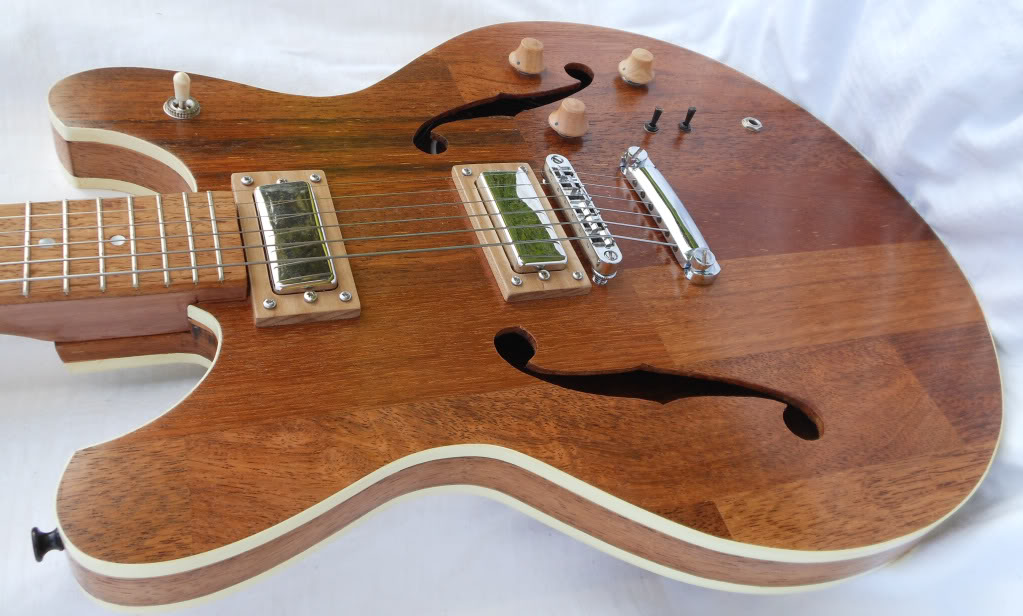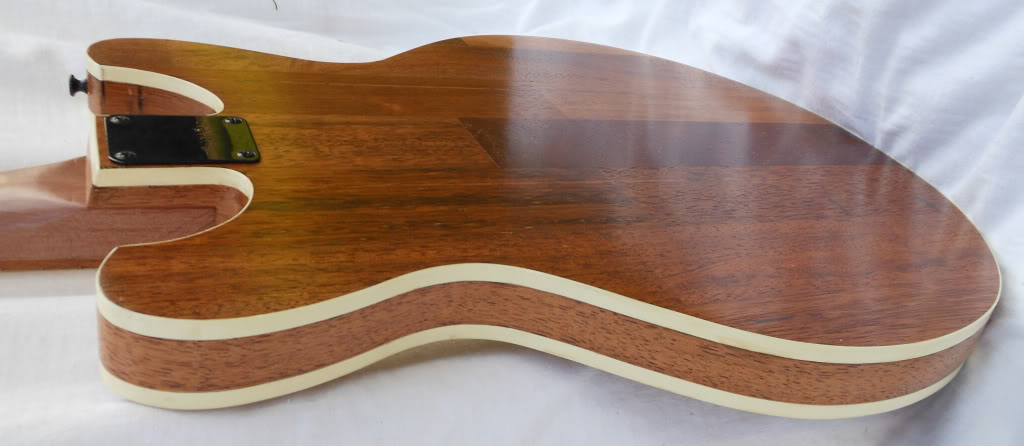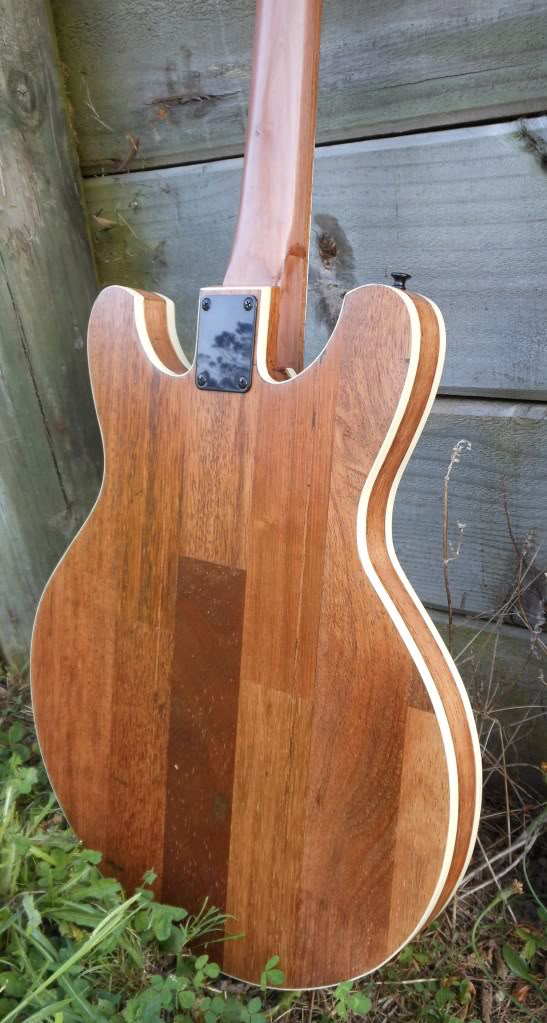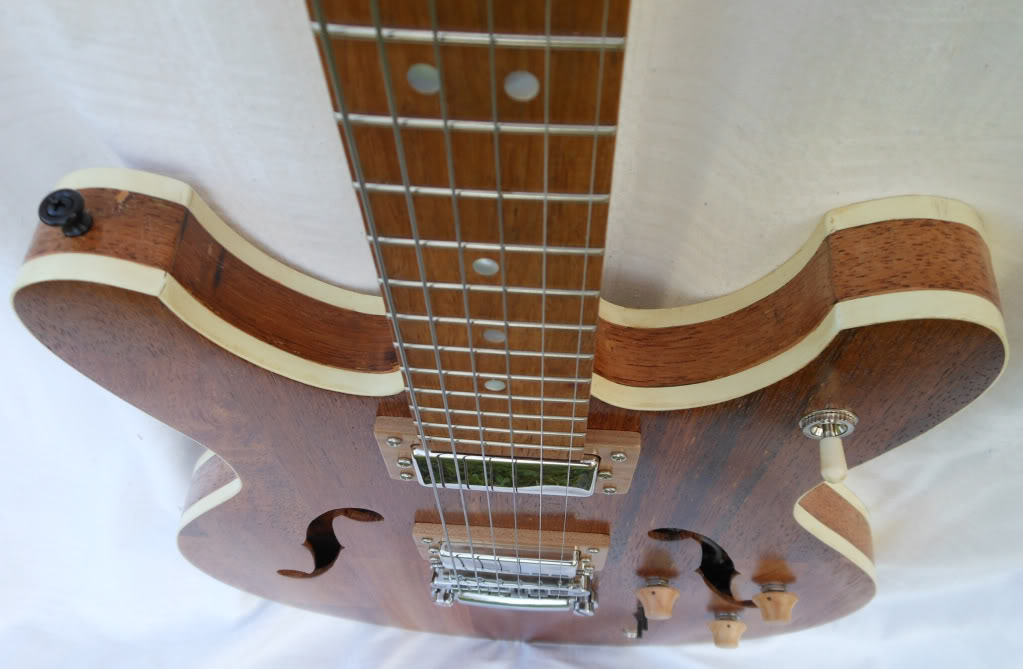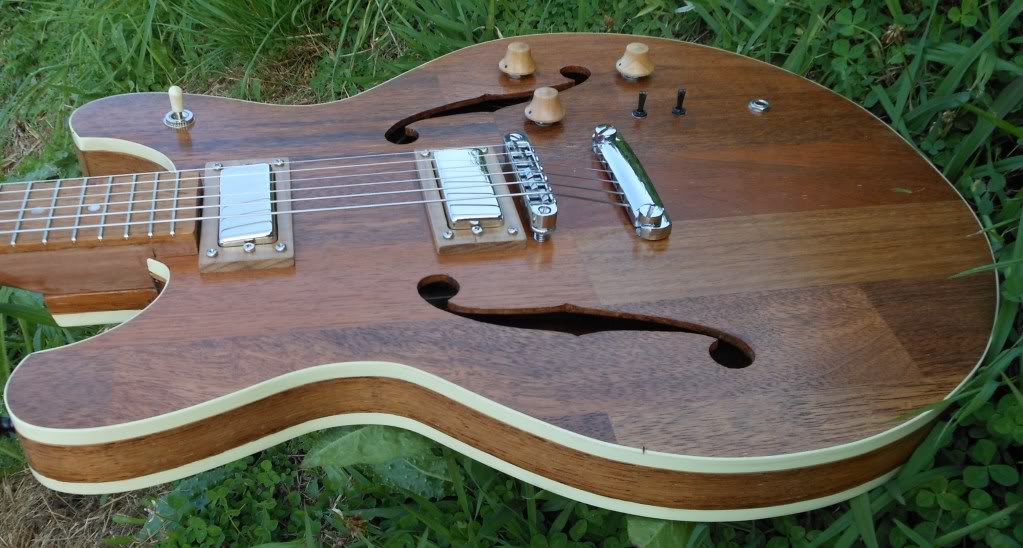 That little black spot on the binding is a little fly.
Thu Dec 20, 2012 9:48 am
It is essentially a flat fretboard with ever so light curving around the edges as a result of the sanding. I find it easy and my brother n law does not seem to have a problem with it either. See video clips attached. Poor quality but it gives you some sort of idea what it sounds like.
First clip shows the different sounds possible with pick up selector. Second clip switches the neck pickup from parallel to series. Probably too poor a recording to hear it.
Thanks to my BiL for playing.
Sweet Home Alabama – Different Pickup Sounds
Thanks for watching this build. Next build will be a stratocaster….