The shaping of the Strat neck and the photos of the finished neck. To enlarge the photo to full size, click on it.
Sorry, only took one photo of shaping the neck but let me assure you that it is a very time consuming and critical task. Once happy with the final shape there is lots of sanding, from 80 grit all the way to 1000. The neck finish is the same as for the body. Using a soft cloth, putting some water based varnish on, and then rubbing it on, one coat after the other.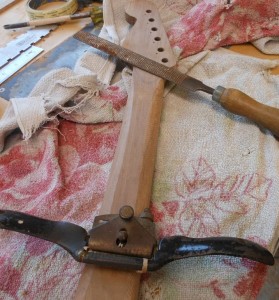 Using a spoke wheel planer and a rough rasp file to shape the neck. Final shaping with razor blade and sandpaper. I have given the neck a slightly chunky C shape. The truss rod is fully loose at this stage as the Kanuka is very strong and will not bend easily. I probably would need to take another 2 mm off to make the neck feel more like a Strat neck.

Neck front.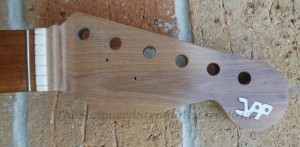 Head stock closeup. Click on the picture to see the nut detail.

Back of the neck. Nice grain. The small knot is not an issue.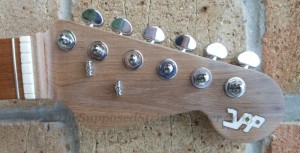 Headstock with hardware fitted.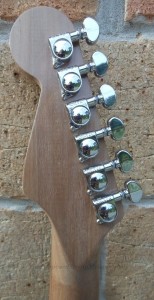 Back of the headstock showing the Grover 18:1 tuners.
Next up Photos of the Finished Guitar