The Yamaha SA20, SA30 and SA50 guitars share the same pickups. Often people mistake these pickups for single coils as they sound bright and clear and are fairly small compared to the standard humbucker size we see today. They are however true humbuckers in that they employ a larger coil for picking up the string vibrations and a smallish coil for eliminating hum. Have a look at the pictures to see how Yamaha created this small humbucker.
A nice explanation on how Yamaha achieved the clarity of these pickups can be found at this link: https://mrglynspickups.com/2021/08/11/yamaha-sa30-pickup/
Click on the pictures to enlarge them.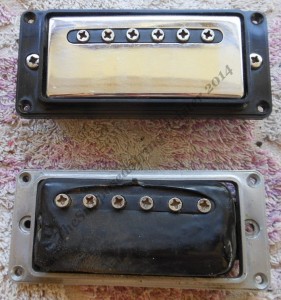 I believe that sometime during 1970 Yamaha changed the bottom pickup for the top one. The differences are only cosmetic – from black plastic cover to a chrome coated cover and a different colour mounting ring.
The older black plastic covers were sometimes prone to shrinking if exposed to heat. Left in the car on a hot day? They still work though!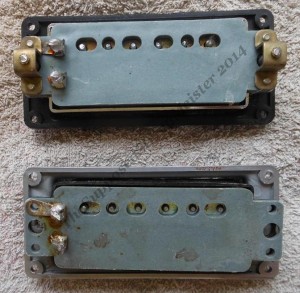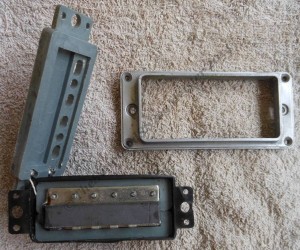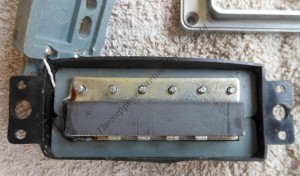 Here a view of the bottom of these pickups. No differences.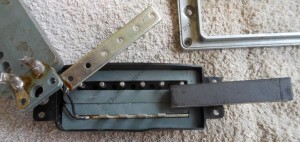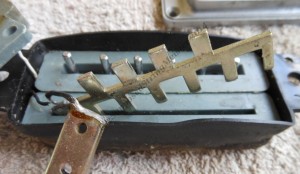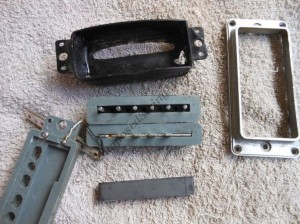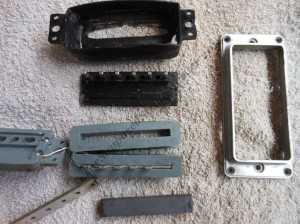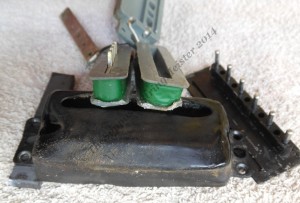 Pulling apart the older pickup. Here you see the bar magnet (anisotropic) which magnetises two metal strips. One for the pole pieces and one for the hum cancelling coil (bottom).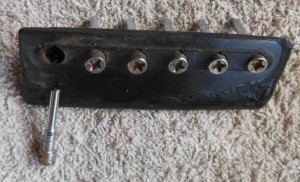 Closeup.
Removing the magnet and the pole piece metal strip.


Showing the hum cancelling coil metal strip.
The black pickup cover removed.
You can see that the hum cancelling coil is much smaller.
Removed the pole piece section.
Here you see the two coils, the right hand side one holds the pole pieces and has many more windings…
The pole piece unit. Each pole can be adjusted to suit.
Removed one pole piece.